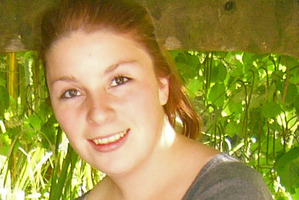 The evidence that Nikki Roper murdered his ex-girlfriend Alexsis Tovizi is "overwhelming", the Crown concluded during its closing address this morning.
Roper, 24, unemployed, denies murdering the mother-of-one with a killer choke hold, before possibly drowning her at her Christchurch flat in 2010.
On the seventh day of his High Court murder trial in Christchurch, the Crown has told the jury of a number of points which it says should lead them to a guilty verdict.
Roper was "obsessed" with his on-again-off-again girlfriend, and mother-of-one Ms Tovizi, the court has heard.
And when he was released from a prison sentence he was serving for an earlier strangling of her, he allegedly told an inmate he was going to kill his girlfriend because she had cheated on him.
"Five days later, she was dead," said Crown prosecutor Pip Currie.
Ms Tovizi, a 21-year-old student social worker, was found dead in her home on December 9, 2010.
Roper denies murder, as well as unlawfully taking her car, stealing her laptop, and five charges of dishonestly using her bankcard.
After she was found, Roper constantly lied to police and others where Ms Tovizi was, Ms Currie said.
And once he was arrested in February 2011, he made admissions to police, saying, "Yeah, I killed her".
During a police interview he claimed he helped drowned her because she wanted to kill herself.
"Helping someone kill themselves is still murder... that doesn't give you an out," Ms Currie said.
Roper also told fellow prison inmates that he'd killed Ms Tovizi, and spoke of a sleeper hold and of drowning, the court heard.
Ms Currie said Roper also had a familiarity and awareness of the sleeper hold and its consequences.
"He had a fascination with the sleeper hold," she said.
The trial had also heard evidence that he'd attacked her neck on three previous occasions, and also that he'd tried to arrange a false alibi after he'd been charged with her murder.
Any suggestions by the defence that Ms Tovizi died of an alcohol-induced seizure were a "total red herring", with no evidence whatsoever to support the claim, Ms Currie said.
The defence will give its closing submissions later this morning, before Justice Forrest Miller sums the case up for the jury of eight women and four men.
Before closing addresses this morning, Justice Miller responded to a jury question asking whether a psychiatric report on Roper would be presented.
He said both parties had chosen not to produce one, adding that no defence on insanity had been raised, otherwise there would've been expert psychiatric evidence.
- APNZ