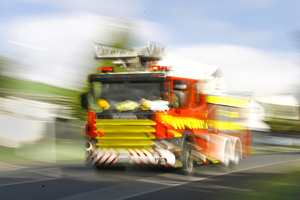 A Far North family was forced to flee their burning house in the middle of the night.
The fire, near State Highway 12 in Omapere, about 60km southwest of Kaikohe, was one of two over the past two days.
The Omapere fire is believed to have started from a fireplace and spread quickly through the ceiling cavity.
The fire was well involved by the time firefighters from Omapere, Rawene and Kaikohe arrived about 1am on Sunday. A vehicle parked next to the house was also extensively damaged.
Fire investigator Gary Beer said two adults and their two children were very lucky to escape because the fire had got hold of their rented property when they ran for cover.
"Wood was used in the fireplace and it appears the fire went through the cracks. We think there was a smoke alarm but we're not sure whether it was working," he said.
The male occupant woke up after feeling the flames and alerted other family members who were sleeping in another bedroom.
Mr Beer said homeowners and tenants needed to take heed of safety messages as increased power consumption and the use of fireplaces became common throughout winter.
"Hot ashes should be put in steel containers and not outside against the house and leave the ash for at least three days," he said.
"It's also a good time to test electric blankets and to check smoke alarms. If you're using heaters, plug it on a wall socket on its own to avoid overloading."
Yesterday, in Donald Rd, Kaitaia, reinforcements had to be called to fight a fire where damage was largely restricted to the space between the roof and ceiling, although the interior of the home also suffered water damage.
NAD lb
For more articles from this region, go to Northern Advocate