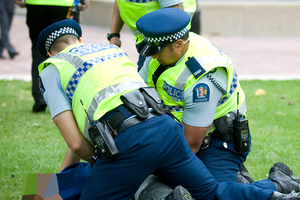 Police staff had more than 4000 work-related injuries over the last three years and claimed for compensation on everything from concussion and hearing loss to hernias and stings.
Figures released to the Herald under the Official Information Act by the Accident Compensation Commission show that from April 2010 to March this year, 4089 claims for workplace injuries were accepted.
Not all information for the 2012/13 year had been processed yet, but ACC confirmed the most common claim was for soft tissue injuries, totalling 1682 during the specified period.
There were also 413 claims accepted for lacerations, punctures and stings; 11 for burns/scalds/corrosive injuries; 32 for dental injuries; 29 for foreign bodies in orifices including eyes; 114 for fractures or dislocations; four for hernias; eight for trauma-induced hearing loss; 15 for concussion and eight for staff who inhaled or ingested substances.
The information did not reveal the extent of each injury, nor did it differentiate between front line police and non-sworn staff.
Police national human resources manager Stu Duncan said the health and safety of staff was of "paramount importance to the organisation".
"And this is reflected in the policies, procedures and practices we have in place to help ensure their safety at work," he said.
"As part of this commitment, we continue to work toward reducing the risk of injury. For example, our tactical training practices and physical competency requirements are mechanisms through which we can reduce the potential for injuries, by ensuring staff are fit to carry out their work and use the correct techniques to do so.
"Unlike many other professions, frontline policing in particular is a physical and demanding job, where there is greater potential for injury, and we remain conscious of this."
Mr Duncan said, based on analysis of the ACC forms completed by doctors, the most common way officers were injured was through muscular stress caused by handling people and other objects.
Police were "constantly reviewing injury data, policy and procedures to determine if any improvements can be made to our systems to reduce workplace accidents and injuries.
"While there may appear to be a large number of ACC claims lodged by police employees, the absence due to injury for police officers is less than 0.3 per cent.
"This is despite police being one of the largest government employers, with around 12,000 staff working across a diverse range of roles."
Mr Duncan said the "rehabilitation measure" - the rate of ACC claims that attract income compensation to be paid due to an injury preventing that person from working - had "consistently" been lower than ACC nationally, and continued to decline.
"This demonstrates that the rehabilitation processes for New Zealand police staff are proving effective in returning people to work in a timely manner and not paying for unnecessary income compensation."
Details on how much compensation was paid to cops could not be provided.
The New Zealand Police is an accredited employer under ACC's Accredited Employer Programme, meaning they effectively agree to take responsibility for their employees' work-related injuries.
Police decide what injuries are covered and provide compensation and related entitlements.
In exchange they receive a significant discount on their ACC levies. They still report injury information to ACC.
Frontline dangers
While the majority of injuries sustained by police performing frontline duties are not life-threatening, others are much more serious.
Many officers are injured as the result of being assaulted or attacked on duty. Though they are trained to deal with problematic or violent offenders and members of the public, often they cannot prevent being attacked on the job.
March 2013
An officer attending an out-of-control party in Auckland was injured after being hit by a flying bottle. When he arrived at the Pt England party, people who had been fighting on the street turned on police. The injured officer sustained a nasty cut to the head.
Kawhia Constable Perry Griffin was attacked when he went to arrest a 19-year-old wanted on outstanding warrants. He was struck from behind and knocked to the ground before being subjected to a prolonged attack.
February 2013
A Picton officer sustained serious cuts to his face, but no broken bones when he was attacked as he arrested a man for disorderly behaviour. As the officer was removing handcuffs from him in the station's holding cells the man lashed out at the officer's face.
December 2012
Two officers were punched to the ground and kicked as they were responding to a call about youths damaging letter boxes and street signs in Huntly. They followed the youths to a house where a party was under way, and were assaulted. One officer was knocked unconscious and as the second officer attempted to protect him, he was kicked in the head and suffered facial bruising. One woman allegedly used a brick as a weapon and tried to shoot an officer with his own Taser after it was taken from him.
July 2010
Constable Mitchel Alatalo and Senior Constable Bruce Lamb were shot by a gunman while doing a routine check at a Christchurch house. Mr Lamb, a dog handler, was shot in the jaw and Mr Alatalo in the leg.