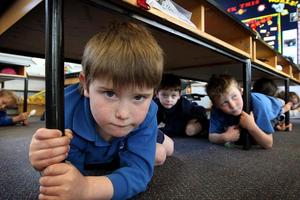 A new study will look at how playing could help children deal with trauma from the Canterbury earthquakes.
University of Canterbury health sciences researcher Junita Nawawi said acting out experiences through play could help children make sense of what they've been through.
"A child who may had experienced shakes would perhaps re-enact that experience, so if they had a dolls house they might shake the doll house, or use the sand in the sand pit to make liquefaction around their neighbourhood."
Ms Nawawi, who is a trained counsellor, would be present during the therapy should the children also want to talk through their experiences.
"It's a therapeutic relationship similar to that of a counsellor for an adult, but in this case the child will communicate with me through their play."
Ms Nawawi said she hoped to learn how playing helps children grow in confidence with their thoughts and feelings.
"When children experience some grim events in their lives, play-time helps them to make sense of those experiences," she said.
Ms Nawawi said other research had found children who took part in play therapy showed greater improvements to those who did not.
Learnings from the study would help therapists, researchers and aid agencies respond in the aftermath of major disasters, she said.
"Hopefully, it will not just benefit New Zealand but all communities around the world where disasters occur."
Ms Nawawi has more than five years' experience helping children and adolescents with emotional distress as well as social and behavioural difficulties, and has been trained in play-based interventions for children.
The study will be under the supervision of Associate Professor Karyn France, a registered clinical psychologist at UC's School of Health Sciences.
Ms Nawawi is seeking children, between ages 4 and 9, whose parents believe they may benefit from some play-based therapy.
She plans to begin the study next month with results available early next year.
* To inquire about taking part in the study, email: junita.nawawi@pg.canterbury.ac.nz
- APNZ