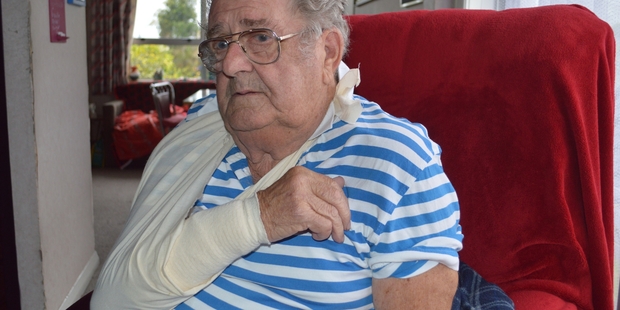 The owner of a bull mastiff dog that ripped a large chunk of flesh from an elderly West Coast man's arm is to be prosecuted if the animal is not voluntarily released to dog control officers.
The dog that attacked Jimmy Hambley, 81, remains locked up at the Greymouth pound, while Mr Hambley is still receiving daily treatment on his arm, which left him with a 15cm-long wound.
Today, Mr Hambley said the stitches had been taken out but it was taking longer to heal than he would have liked.
"It is going to be a while yet before it heals, and I still have to see a surgeon," he said.
Grey District Council dog control officer Paula Kerr said today the dog's owner had not released it voluntarily to the council to be put down.
That meant it would remain in custody until the case was heard in court or the owner volunteered it up. If the owner gave the animal up it would be destroyed, Ms Kerr said.
"However, if the owner does not release the dog we will have to keep it at the pound until the matter goes before the District Court. Then we will ask for the dog to be destroyed."
Ms Kerr said the dog could spend as long as three months locked up before the case got to court.
She said Mr Hambley's injuries were the worst she had seen in her years of working in dog control.
"I have never seen anything that comes close to Mr Hambley's injury," she said. She was not prepared to release photographs of the injured arm because they were "far too graphic".
The attack on Mr Hambley happened when he was doing a good deed by delivering a letter to a Runanga homeowner on May 1. The dog had strayed on to the property Mr Hambley was visiting and as he went to knock on the front door, the dog, which was lying on the ground, growled and then pounced, taking the pensioner by surprise.
He was knocked to the ground and the dog latched on to his arm, biting a chunk of flesh to expose the bone.
Ms Kerr reminded all dog owners to ensure their dogs did not leave their property unless on a leash.
"We will not tolerate wandering dogs; they will be picked up and placed in the pound and owners will be issued with infringement notices."
- The Greymouth Star