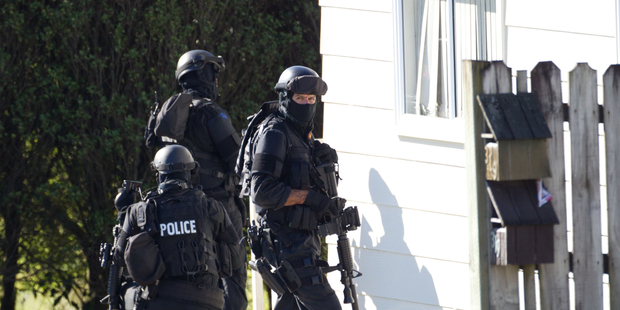 As armed police told a man over a megaphone to leave his Albany house empty handed so he wouldn't be harmed, schoolchildren sat restless in their stuffy classrooms less than 100m away under lockdown.
Some neighbours on the Albany Highway were kept abreast of the armed offenders squad's movements, while others stuck in their homes relied on the internet for news.
Police had been investigating a domestic incident since Sunday evening and had been looking for the man.
A neighbour, who wanted to be known only as Helena, said she had heard an argument at the house and a glass of wine had been thrown out the window. She hadn't seen the woman occupant since.
Yesterday morning, police were told that the man had allegedly pointed a gun at his partner and threatened to harm himself.
Just after lunch, people at a local school saw a man run across the grounds, carrying what looked like a rifle, and about 50 officers were sent to the scene.
On a side street, the armed offenders squad strapped on body armour and grabbed their rifles before getting into cars to converge on the man's house 50m away where they believed he was.
Kristin and Albany Junior High Schools were locked down, and staff at nearby businesses also had to remain indoors.
About 1.50pm, police started calling to the man over a megaphone and told him the house was surrounded by armed officers.
They frequently addressed him by name.
"Exit the house immediately. Have nothing in your hands and you will not be harmed."
They told him he couldn't hide and that they would search the house.
"We will find you and anybody hiding," they called out.
About 2.15pm, police moved down behind the property with rifles raised. One of the contingent was carrying a heavy shield, and it appeared as though the squad were preparing to storm the house.
Shortly after, they detonated five blank explosives above the property and called on anybody inside to leave.
They then entered the house.
A group of four armed police left the scene while their colleagues were still inside.
They had discovered the man was not there.
Officers tracked his cellphone to nearby Waiake and found him hiding among tree roots.
Later, police said the man was assisting them with their inquiries. No firearms had been found by last night and no charges had been laid.
After more than four hours, the lockdowns and cordons were lifted.
But there was a sense of confusion as to what had happened.
Students with their bags on and wanting to leave Albany Junior High were held back by teachers until the police gave the all-clear.
Some of the younger students yelled, "Woo hoo, I was allowed out of my class."
Olivia Watt, 14, said they had been trapped in stuffy classrooms for four hours and weren't able to go to the bathroom or go get something to eat. She said her classmates soon became bored, restless and loud.
"We weren't told anything. We didn't know what was going on ... We couldn't open the windows or anything."