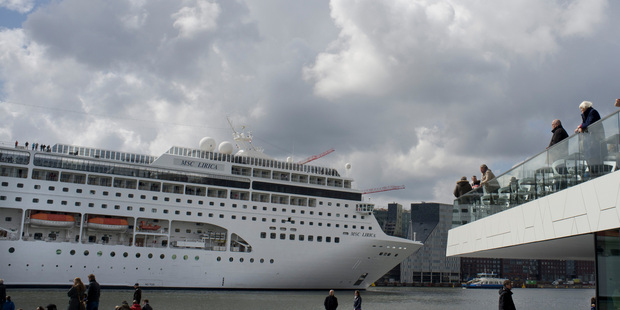 The passenger cruise market to Napier has shot up by 548 per cent over the past five years but the impact is a dramatic downturn in coach tours with some operators cancelling schedules to Hawke's Bay.
Hawke's Bay Tourism said the cruise market had changed the make-up of the traditional group or coach tours. Visitors who once came on a coach and stayed in commercial accommodation were now not staying overnight in the region as they were visiting on a cruise ship.
Cruise travel was forecast to grow at higher rates, with Napier and New Zealand at the heart of it.
But as a result of the growth there was less demand for coach touring, with many operators rejigging tour schedules to spend less time in New Zealand to cut costs. Napier had in some cases been taken out of coach schedules altogether.
The swing towards the cruise market was reported by Hawke's Bay Tourism general manager Annie Dundas in her quarterly report to the organisation's funder, Hawke's Bay Regional Council.
Her report said rather than criticising cruise travel, Hawke's Bay needed to look at ways it could extract the cruise dollar on more experiences and excursions in Napier and Hawke's Bay. The experience needed to be strong enough to ensure visitors returned at a later date.
Ms Dundas was also asked to report on why commercial accommodation was in decline, especially in Napier, over the past five years. "The decline is not just specific to Napier. Commercial accommodation across New Zealand is facing similar declines and much of this is based around the economic climate we have been operating in since 2008, as well as more competition in the market.
"There is simply more choice for consumers. This, combined with a slowdown in tourism generally, means visitors spread themselves across more options, which includes staying with friends and family."
There were fewer visitors from the traditional UK and US markets, which Hawke's Bay had relied on heavily in the past.
There were fewer corporate and leisure travellers as well as conference delegates, which were among the main groups using commercial accommodation.
Ms Dundas said the best way to reverse the trend was to create more demand for the region by marketing Hawke's Bay's story to future visitors.
"This, of course, doesn't guarantee more of those nights spent in commercially classified beds. Consumers will determine where they stay based on a number of factors, including price, location, quality and reviews.
"Naturally, Napier will benefit because it has a concentrated number of properties available."
Ms Dundas said Hawke's Bay Tourism could not reverse the trend along.
"The most important piece of the puzzle is understanding our market and our tourism offering. We should be considering the needs of a changing consumer, their wants and needs, and adapting to ensure we are a competitive region."
For more articles from this region, go to Hawkes Bay Today