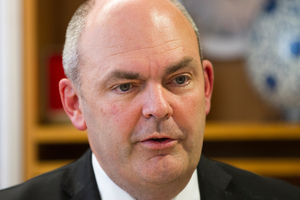 Tertiary Education Minister Steven Joyce says he was not informed about an alleged online cheating service because an investigation failed to find sufficient evidence to proceed.
The language website Assignment 4U reportedly wrote papers for international tertiary students attending universities, polytechnics and other tertiary institutions.
A former employee of the company claimed to have written to several institutions, including the New Zealand Qualifications Authority (NZQA), warning them about the service but had no replies, Radio New Zealand reported.
Mr Joyce said an internal investigation was underway at NZQA to find out why he was not told about the allegations.
"My understanding is they investigated at the time and didn't have enough evidence to proceed further.
"The question will be whether this particular allegation is what the person alleges it is, which is a commercial cheating service."
Canterbury University acting Vice Chancellor Ian Town said plagiarism could be picked up through software systems, but assignments that had been written by someone else were a different story.
"It's the hardest type of cheating to detect where someone presents work as if it was their own and so it is quite difficult to detect it using routine measures."
Mr Towns said that was probably why it has taken this long for the NZQA to become aware of it and take action.
- APNZ and Newstalk ZB