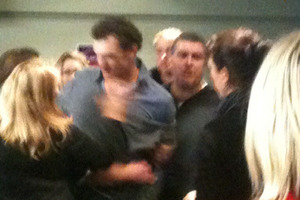 Black Caps star Kyle Mills was caught up in an altercation at a Christchurch bar early yesterday but the cricketer says he played the part of peacemaker, not participant.
Six weeks after Jesse Ryder was assaulted at a bar in the same city, Mills was involved in an incident at the Yaldhurst Hotel before being advised by security to leave.
Witnesses said Mills was drinking with friends at the rural bar when two of the player's acquaintances became involved in a scuffle. Mills said he tried to break up the fight before bouncers at the bar escorted him from the venue for his safety.
"I was enjoying a night out in Christchurch last night with some friends," Mills said. "Later in the night I turned around to see two of my friends in an altercation with some other people.
"One of those friends ended up on the ground and I went over to break it apart.
At no stage did I hit anyone and nor did anyone hit me.
"The bouncers broke them apart and two of them suggested I leave the establishment so as to not risk being targeted by anyone."
New Zealand Cricket Players Association chief executive Heath Mills, the bowler's older brother, said he wasn't involved in the incident. "Two friends of his got into an altercation with some other people there and one of his friends ended up on the ground," he said.
Mills had also spoken to another person present at the bar who corroborated Mills' version of events, and confirmed the cricketer neither threw punches nor was the target of an attack.
Witnesses said a visibly upset Mills had to be restrained in the smokers' area. He was escorted through the bar by friends and security.
Mills was taken outside to the main West Coast Rd entrance and, once on the roadside, Mills yelled at security, "he's my mate, why would I have a go at him?" several times.
Mills said he wanted to be allowed back in the bar because he was concerned for the safety of his friend.
"I initially wanted to remain to ensure my friends were okay, however once outside I was told they were fine and I made the decision to head home."
Another patron took photos of the scuffle on his cellphone before an associate of Mills seized the phone and, while holding the patron at arm's length, deleted several of the shots, saying, "you don't need to be doing that".
The altercation follows the attack on Ryder in March. Coincidentally, the 20-year-old who last week pleaded guilty to assaulting Ryder was identified by one witness as being at the Yaldhurst Hotel at the time of Mills' scuffle but had no involvement.
The Yaldhurst Hotel did not wish to comment when contacted.
Mills, 34, is due to fly out to England next Tuesday to join the New Zealand side for their limited overs series against their England hosts.
- APNZ