Action group fears a child will die before road safety features are installed.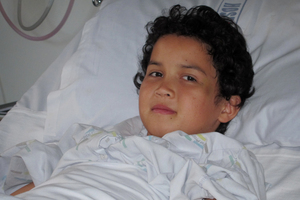 Was I hit by a car, Mum? Those were the first words Danielle Franklin heard her 9-year-old son say after he was knocked unconscious by a vehicle that sent him somersaulting through the air in one of Auckland's most dangerous areas for schoolchildren.
While Bailey Franklin escaped with a fractured pelvis and bruising across his body, a neighbourhood group demanding urgent protection for their children from busy traffic around Atkinson Rd, Titirangi, says a child will be killed if the problem is not quickly fixed.
One parent described the blackspot, home to New Zealand's ninth-busiest speed camera, as "a ticking timebomb".
But Auckland Transport told the Herald that work had started on desperately needed improvements.
Bailey was walking home from Kaurilands Primary School with friends last Tuesday when he stepped out into Kaurilands Rd from behind a parked 4WD into the path of a car.
"The driver didn't see him until he was hitting her car," said Ms Franklin, who has been at her son's bedsideat the Starship hospital since the accident.
"The lady said that she just heard the thump and saw him somersaulting through the air. When she got to him he was unconscious."
Bailey could not recall what school he went to or what day of the week it was when he regained consciousness - even his own name was a blur.
Ms Franklin was at work when a relief teacher phoned.
"It was the worst phone call of my life," she said. "I confirmed my name and they just said he'd been hit by a car ... and didn't say if he was all right or not all right ... they just said he was going to Starship.
"When you think of a car and a child, you think the worst - he's very, very lucky that he's all right."
Her son was being brave in battling back from his ordeal, but he was not expected to recover fully for several months.
The driver was not speeding and will not face any charges.
It was the latest of a string of accidents and near-misses that has the Atkinson Road Safety Group demanding that Auckland Transport keep their children safe.
Group leader Jennifer Conlon said the congestion-prone arterial route was made more hazardous by the close proximity of several schools, daycare centres and kindergartens, altogether flooding the streets with about 2500 children each day.
Mrs Conlon said there had been other accidents in the road and countless near-misses.
Speeding was also a major issue in Atkinson Rd. In 2011, police sent 2152 tickets to motorists caught speeding by a camera there. One driver was snapped coming down the hill from Titirangi at more than 200km/h.
Auckland Transport spokesman Mark Hannan said a raised pedestrian crossing outside the school, a pram crossing and red surfacing to slow traffic had been installed.
Auckland Transport was working on the final details of speed cushions and pedestrian refuge options.
But Mrs Conlon said the community had been waiting a year - and faced waiting another eight months - since being told upgrades were being fast-tracked.
"It feels like a ticking timebomb. It's just which child, and when, that is the question."
Our kids on the roads
What the statistics say
* Traffic-related incidents account for about 10 per cent of all accidental deaths among Kiwi children aged under 14.
* On average, nearly eight children under 15 die on our roads each year, with those aged under 4 (36 per cent) and between 5 and 9 (38 per cent) making up the majority of them.
Source: Safekids New Zealand