After suffering traumatic brain injury and memory loss in accident, hurt passenger urges use of helmets.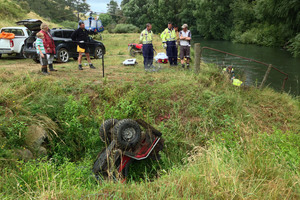 Emily Mott woke up feeling dizzy days after falling off a quad bike and hitting her head on a rock while working on a dairy farm near Dannevirke.
She looked up from her hospital bed at her husband whom she had married six weeks earlier in 2007 - and had no idea who he was.
"I said to him 'you're not my husband, you're too f****** old'."
She learned later that the traumatic brain injury she still battles with six years on happened after she had fallen off a quad bike she was a passenger on.
She wasn't wearing a helmet despite the farm's policy demanding all of its workers don them whenever they were on quad bikes.
As a result, many of her long-term memories - including her wedding - are gone.
"I knew I was married when I was in hospital but I thought 'what does my husband look like'?"
Now part of a Ministry of Business, Innovation and Enterprise (MBIE) campaign to reduce serious injuries and fatalities to quad bikers on farms, the 33-year-old is still on regular medication for insomnia and depression.
She's unsure of how to improve safety on quad bikes but says wearing helmets has to be a priority.
"I hear a lot of people saying 'I drive slowly, it'll be fine', but what if something happens?
"My father said 'Emily we are not going to wear helmets and you will just have to deal with it' and that really was a worst-case scenario."
The MBIE has reported a shift in quad bike riders behaviour on farms with an uptake in sales of helmets, more use of them and ACC claims for quad bike accidents on farms down 10 per cent in the two years to June 2012.
But its three-year intended target of a 30 per cent drop in quad bike rider fatalities on farms by November this year remains elusive.
A programme that set out to achieve this is likely to be extended.
Five New Zealanders die on quad bikes on farms every year and more than a quarter (28 per cent) of all farm accidents involve the vehicles.
A further 845 people are injured on quad bikes with 160 of those suffering serious injuries requiring time off work.
In 2010, farm quad bike accidents cost $10 million in ACC claims - although the cost is likely to be higher as not all injured lodge claims.
General manager health and safety operations Ona De Rooy said it was clear that some farmers were still not making good choices about which vehicle to use, carrying passengers, and using the machines beyond manufacturers' recommendations.
"The ministry believes too much of the progress that has been made has occurred solely because the rural community has been told to make change, not because there is an increased understanding of the risk or a belief that these are the right things to do morally and legally," Ms De Rooy said.
"Until there is evidence of strong sector and community leadership, the ministry's task as a regulator will continue to be more difficult than it need be."
Since 2010, a health and safety group driving the programme has carried out more than 2000 assessment visits on farms, issuing more than 700 warnings or improvement notices to farmers - mainly regarding the wearing of helmets.
But Dr Grant Christey, clinical director of trauma at Waikato Hospital, said despite ongoing preventive measures the number of quad bike accidents on farms was "alarming".
A report that he co-authored in the ANZ Journal of Surgery showed that hospital admissions for quad bike riders on farms in the Waikato rose by 42 per cent between 2009 and 2010.
The reasons for the increase in admissions were "quite complex" although just 45 per cent of respondents reportedly used helmets. People injured on their bikes had an average age of 38.8 years.
"Quad bikes are extremely useful on farms and their use is increasing, secondly there are cost issues with safety strategies such as putting extra equipment on the quads themselves and looking at different designs that may reduce the functionality of the bikes that may make them unwieldy.
"There's some resistance with protective clothing and helmet use because they are constricting and they are too hot to wear and they are certainly not particularly fashionable," Dr Christey said.
He said enforcing regulations coupled with safety education, could possibly reduce death and injury rates but fresh debate was needed.
It would also help to relieve the burden on health services where the average stay for a quad bike accident victim is about seven days at a cost of $19,500.
Waikato Federated Farmers president James Houghton said farmers were having talks about whether quad bike training was helpingand whether a change of mindsetand safety cultures on farms was needed.
He said the five deaths each year, while tragic, needed to be put into context. "There are bigger tragedies in farming than ATVs. We are still knocking around the 80-plus mark in suicides."