'Despicable' theft of essential gear stops lifesavers rushing to help surfers in trouble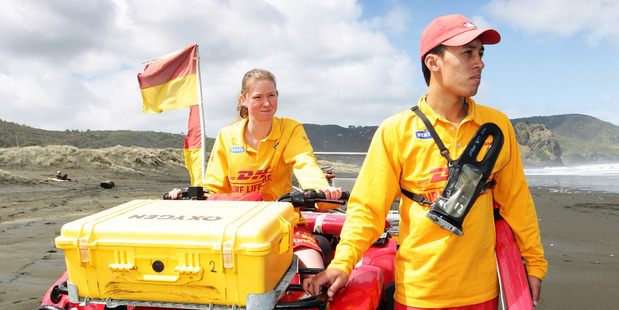 Piha lifesavers rely on their all-terrain vehicles. Photo / Doug Sherring
Thieves have stolen vital equipment from a surf lifesaving club, potentially costing four surfers their lives yesterday.
Piha Beach club bosses describe the robbery of $60,000 worth of essential equipment as despicable.
Volunteer lifeguards at the notorious west Auckland beach were shocked when they scrambled to rescue four men in the water yesterday morning and found three all-terrain vehicles and two outboard engines had been stolen from their gear shed.
Rescuers had to drag an inflatable boat 300m across the beach to reach the struggling men - costing the rescuers vital minutes.
Luckily the surfers got themselves out of trouble before the craft reached them.
United North Piha director of lifesaving Rob Pidgeon said a member of the public has called the club today to say they saw the bikes following a sedan near the top of Piha Road at 3.00am yesterday.
"We've passed the information on to the police, and I'm sure they'll do a great job in tracking down wher the equipment is with this information.
"I'm sure there are people out there who can add a little bit more to the story."
"The whole community is sickened and appalled at this cowardly crime," Fiona Anderson, who heads the Piha First Response team, told the Herald on Sunday.
"To steal equipment used to save lives is the lowest of the low. Someone knows who did this and I hope they turn them in."
Anderson arrived about 11.45am and saw two lifeguards dragging the boat across the sand. They were exhausted by the time they got to the sea and on another day the swimmers could have easily drowned, she said.
"It looked like twin lads in their 20s who got into trouble and two other surfers came to their aid," she said. "It was terrifying to watch because the lifeguards were struggling to get the boat over the beach." Rob Pidgeon said his members were distraught, first because of the theft and also because of their limited capability to respond without the all-terrain vehicles.
"This hasn't just been a theft from our volunteer club, it has been a theft from our community and may cause someone to drown at our beach," Pidgeon said.
He believed the theft was planned and would have needed large vehicles to take all the gear from the scene.
"We are still unsure if the equipment is covered by insurance.
"In the meantime, we have borrowed gear from other clubs in order to respond to any emergencies."
Auckland police had been told of the theft and an investigation had been launched.
Piha Beach is one of the most treacherous in the country, with 37 rescues this summer alone. British man Simon Jones, 55, drowned in March as well as two young men in February.
If you want to help the Piha club, email lifeguarding@unitednorthpiha.org.nz or phone Rob Pidgeon on 021 816 916.