Boxing promoter lines up on-the-run opponent for NZ heavyweight's California tune-up.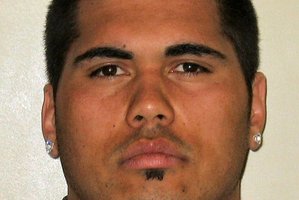 A boxer lined up to take on rising Kiwi heavyweight Joseph Parker is wanted by police in New Zealand - but the fight's promoter says the bout will go on.
Brice Ritani-Coe will meet Parker in a California ring on Friday. The six-round contest has been arranged to tune up Parker before his bout with Francois Botha in Auckland next month.
US-born Ritani-Coe grew up in New Zealand but moved to Las Vegas five years ago. Since then, he has boasted online of living the high life, including posting a picture of himself with All Black captain Richie McCaw.
But he has never admitted that he skipped the country soon after admitting a charge of cultivating 20 cannabis plants.
He was convicted but did not turn up to be sentenced, and police issued a warrant for his arrest.
He is the second boxer with a criminal record Duco has chosen to face Parker.
Last year, Parker fought Richard Tutaki, days after Tutaki was convicted of escaping policy custody. Tutaki had also faced four driving-related charges, two of breaching community work, and has since appeared on a charge of possessing methamphetamine.
Speaking to the Herald on Sunday from Las Vegas yesterday, Ritani-Coe said he knew about the arrest warrant but he was "too busy" to come back.
He left because he had the opportunity to go to a mixed martial arts training camp in Canada and then wanted to try his luck with a fighting career in the United States.
The 27-year-old, who has a three win, one loss, one draw boxing record in the United States, said he wasn't sorry for his actions.
"I had some plants that grow in the ground - I know it's illegal but it's not like I was raping children like a Catholic priest. No, I'm not really sorry. It was a really dumb decision but in the long run it's just plants. They're becoming legal here in the States, in certain states, and in some countries.
"It doesn't hurt anyone. I don't see anything wrong with it. I've seen worse things from alcohol because I've worked in security."
Ritani-Coe said he did not smoke marijuana and, despite pleading guilty, claimed he was looking after the plants for a friend.
He had pleaded guilty because he was being a "loyal friend" and thought he would get diversion.
"It was just a dumb decision I made. I've grown up ... I feel like I'm in a better place with Vegas and I've learnt from that."
Detective Grant Miller, of Queenstown, said this week that the warrant for Ritani-Coe's arrest was still active but his crime was not serious enough for an extradition order.
"If he came home though, he'd be arrested."
Duco Events promoter David Higgins said Friday's fight would go on, as thousands of dollars had been spent and many people were involved in the event.
"If we cancelled we'd hurt a whole lot of people, it'd be a massive upheaval," Higgins said.
"Let's just hope Joseph knocks him out and teaches him a lesson."