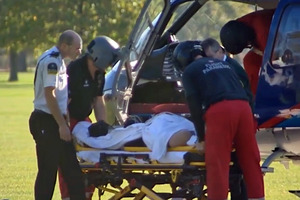 A 54-year-old Canterbury rally driver died yesterday after he failed to take a corner and his car hit a tree in Hanmer Forest.
Royce Watson missed the corner at the finishing line of the Hanmer Rally event.
His co-driver, 23, was flown to hospital where he was in a serious but stable condition last night.
The crash happened about 1pm on a forestry road left-hand bend at the end of a Straight 'n' Paint Rally Hanmer 2013 special stage.
Watson died at the scene.
Minutes earlier, another car hit the same tree and slid down a bank, but no one was badly hurt.
Shayne Harris, president of MotorSport NZ, expressed his sympathies to the family, friends and colleagues of the victims. It was thought to be the first rally car death since 1987.
Harris said the organisation would work with police on inquires into the crash.
It was the first time the rally had run for four years after the 2010 event was cancelled because of the first Christchurch earthquake and the next two were called off because of heavy snow.
The 66km Straight 'n' Paint Rally Hanmer 2013 route was divided into seven special stages, covering forest roads and the famous concrete bottom ford.
The club event was aimed at novice drivers so they could learn the rudiments of rallying but the field also included more experienced drivers.
Update:
Police have released the name of the victim from the fatal crash. He was Royce Kevin Watson, a 54-year-old from Christchurch
- APNZ