Woman hurt in dog incident rejects cash and says she never got the cake she was promised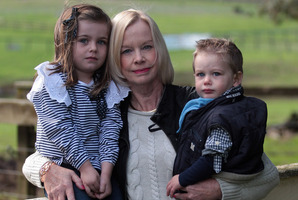 A woman who was hurt in a run-in with a District Court judge's dog says the compensation she was paid is a joke - and she's never seen the cake that was baked for her.
This week, Judge Mary Beth Sharp was discharged without conviction and ordered to pay $500 after pleading guilty to being in possession of a dog which startled Margot Bryant, causing injury to her right forearm.
The dog is a 50kg rottweiler-boxer cross named George.
Bryant told the Herald on Sunday: "$500 is an absolute joke. Don't get me wrong, I didn't want any compensation ... to me, that's not the answer."
The incident happened in rural South Auckland on February 10 last year. "It's gone on and on and on, so I'm glad it's all over," Bryant said.
The court heard Sharp baked a cake for Bryant and took George to a dog behaviour therapist.
But Bryant said she was still waiting for her cake.
"I never got the banana cake or whatever was quoted ... I don't know where the cake went."
Bryant said she wanted her grandchildren and other people in the neighbourhood to be safe.
"If something happened to them because of that dog, I'd never, ever forgive myself.
"As I understand it, if that dog is to be walked, it's got to be muzzled. They have to fence their property in a certain way ... so that the dog can't interact with any person that arrives at their property."
District Court community engagement director Sonia de Friez gave the Herald on Sunday an affidavit from the judge's son, William, who owns George but is a showjumper living in Germany.
In the affidavit, filed in March, William said many tradesmen and visitors had been to the family home since February last year without incident. William said "only three people in the world" disliked George.
"He has always had large amounts of attention from everybody, which has probably made him rather egocentric," William wrote of his dog. "It seems incredibly unfair that my poor mother is being prosecuted for something which was an accident."
Bryant said the experience had put her off dogs. "It certainly gives you a hell of a fright and I'm so wary of dogs now, any dog."
She said she bore no ill-will towards Sharp or the judge's family.
A "George the dog fan club" Facebook group shows pictures of the dog at events, in a spa pool and wearing a Burberry-style hat. The group had 109 members this week.
Bryant said she planned to give the compensation to a good cause. "There's no way I'm going to keep that money. I don't want it."