That free firewood from the council may release arsenic when burned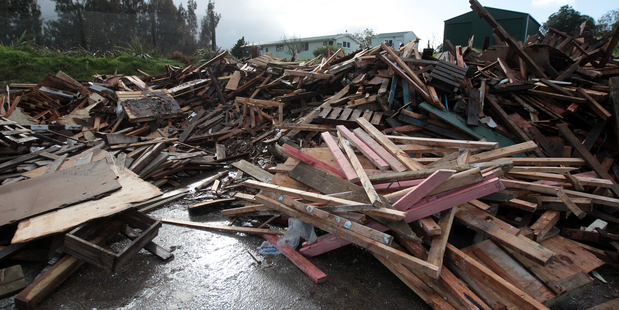 Auckland Council says giving wood to households - even if some is treated and burned as firewood - is preferable to sending it to a landfill.
Last week, the Herald on Sunday reported on research by Perry Davy, of GNS Science, and others that showed burning treated timber was pumping arsenic into the air at a higher rate than had been suspected.
He said people were burning construction offcuts or old decking as it was cheaper than firewood.
Auckland Council is distributing a pamphlet warning of the dangers of burning treated wood, which states people must "make sure you never use treated timber" as firewood.
But the Herald on Sunday has learned that among the places people pick up those free offcuts are council recycling and refuse centres.
Most of the country's construction timber is treated with copper, chromium and arsenic (CCA). When it is burned, it releases arsenic into the air. Davy's research showed arsenic levels were sometimes at least twice as high as guidelines allowed.
Burning treated wood is illegal but Davy said it could be hard to recognise whether wood had been treated.
At Waitakere Refuse and Recycling Centre, in Henderson, an employee said painted wood was separated from the rest but the wood offered for collection included treated timber. "All sorts of people pick it up for burning or building."
She said firewood-seekers were better off taking dismantled pallets. But it was up to consumers to make sure they got the right wood.
Glen Eden resident Enzo Giordani is moving into a house with a fireplace and needs firewood. He said he assumed treated timber had already been separated at the centre.
But Davy said a lot of treated timber was not stained or the stain had faded, so it would be difficult to tell whether it was arsenic-treated.
A spokesman said the council was trying to do the right thing by offering wood for re-use. "In previous years, all the wood went to landfill, which is the worst possible outcome on the waste hierarchy."
He said most of the material for collection was pallets, which were usually untreated.
Three other council transfer stations did not separate treated and untreated wood. There were also about 20 privately run transfer stations around Auckland. "Council officers at the gate and throughout the site pro-actively support and advise the public on what materials should be taken for their specified purpose and what should not be."