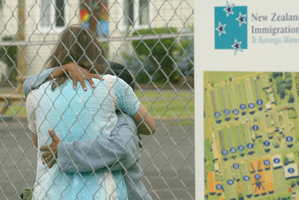 The Mangere Refugee Resettlement Centre will be rebuilt at a cost of $5.5 million over the next four years.
The new 192-bed facility will be built using a public-private partnership procurement model and the Government will lease the buildings back.
The money to be spent will include the cost of leasing and maintaining the new building.
Many of the buildings at the centre, which were built during World War II, have been deemed beyond repair after being left to deteriorate.
Immigration Minister Michael Woodhouse said the upgrade to the 160-bed facility would come from this year's Budget.
"A new facility would be built to accommodate 192 beds, including provision to accommodate 300 people in the event of a mass arrival," he said.
Mr Woodhouse said the centre played a crucial role in helping refugees adapt to their new life in New Zealand, but many of the ageing buildings were beyond repair and needed to be replaced.
Mr Woodhouse said he hoped the arrangement would see new and upgraded buildings worth around $15 million at the refugee centre by the end of 2014.
It will be built in stages so it can continue to cater for refugees arriving to New Zealand.
- APNZ