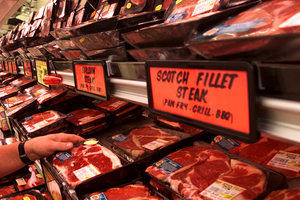 Labels on meat warning people to remove all packaging before putting it in the microwave oven could damage microwaves, leading to a reminder from Countdown to its customers to follow instructions.
Customers who had bought meat products with labels stating "remove all packaging before placing in microwave" in the last four weeks should ensure they removed all packaging before putting them in a microwave oven, including defrosting, Progressive Enterprises said today.
"They were used on the basis of being microwave-safe. However, they are not and failure to remove the labels may cause damage to your microwave. An investigation with the label manufacturer is currently taking place," the supermarket chain said in a statement.
All affected labels had been removed from products in stores but customers who had meat in the freezer were reminded to follow the instructions on the label.
There was no impact to the meat products inside the packaging but any customer who had bought meat with this particular label and had concerns could return it to their nearest Countdown supermarket for a refund.
- APNZ