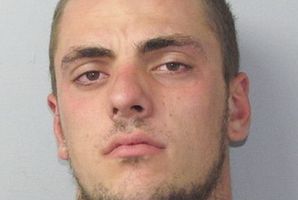 A damning letter by a high-security prisoner is alleging serious breaches of Corrections' protocols following his escape from a moving prison van three weeks ago.
David Lothien, 21, was being transported to Hawke's Bay Prison along with seven other prisoners when he escaped during a stop at a BP petrol station in Dannevirke on April 17.
Later recaptured, Lothien sent a five-page letter to Hawke's Bay Today from inside prison, claiming staff had made it "easy" for him to escape.
"They handcuffed seven prisoners but not me because I had a cast on my arm," he wrote.
"They usually put a waist restraint on but they decided it wasn't needed.
"I had just come down from maximum security prison on transfer and they should have had some sort of restraints on me."
Lothien's escape began when another prisoner kicked open a food flap in one of the van's cells, in an effort to let in fresh air after the Corrections officers failed to turn on the air conditioning.
"After he kicked out the flap he reached through with his cuffed hands and undid a clip, pulled down the handle and opened his cell door."
Lothien said the prisoner walked down the van, opening the other prisoners' food flaps before he remembered the Corrections officers didn't lock the back door of the van.
"I saw an opportunity to be with my family. I jumped out of my cell toward the back door and saw we were coming into Dannevirke," he wrote.
"Just before the train tracks I took my chance and jumped, the alarm went off, I realised I couldn't turn back now."
Police apprehended him four days after his escape while watching his stepson's rugby game in Napier.
Hawke's Bay Regional Prison manager George Massingham said he was unable to comment on the escape but an investigation into the incident was ongoing.
Lothien pleaded guilty in the Napier District Court on Wednesday to escaping lawful custody and will be sentenced on May 28.
During his court appearance his lawyer, Alan Cressey, said the incident was a "major embarrassment" for the Corrections Department.
For more articles from this region, go to Hawkes Bay Today