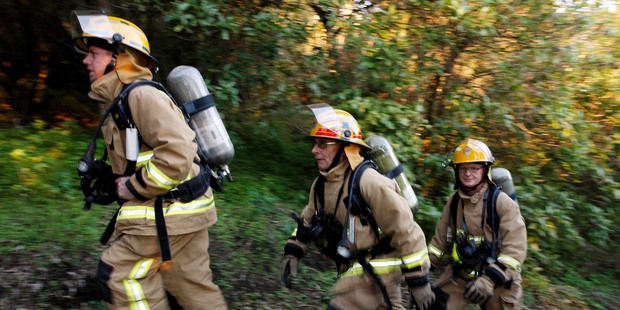 When nearly 500 firefighters run in a vertical marathon up Auckland's Sky City tower, a Northland community will be cheering for local volunteers Brian, Brian, Brian, Brian and Scott.
It will be a hard slog up those 51 flights of stairs, amounting to 1103 steps, in tomorrow's annual Firefighter Sky Tower Stair Challenge fundraiser for Leukaemia and Blood Cancer New Zealand.
Everyone taking part has to wear their full firefighting clobber, weighing 25-27kg. They can use their breathing apparatus if they want.
Brian Powell, an Onerahi volunteer, has done the long haul up the tower nine times before, seven of them when he lived in Auckland. This will be the second year an Onerahi Fire Brigade team has stepped up to the challenge.
Scott Redwood and the Brians - Powell, Clancey, Redwood and Wilson - have been training since January, zig-zagging up the trails and stairways of Parihaka and the Waimahanga Track.
"Doing the challenge is the easy part, doing the training is hard," Mr Powell says, then tells the truth.
"Physically it's extremely tough and also mentally, just going around and around and around."
The annual challenge requires all of the five-member teams to bring $2500 to the party, and, of course, they bring buckets more money than that.
Mr Powell can't speak highly enough of the Onerahi community that has already helped raise almost $10,000, a rush of goodwill expected to bump that figure up after the tower has been topped. Last year, the team also raised $10,000 from raffles, sausage sizzles and the like.
"We've had so much support from the businesses and people in Onerahi. We'd like to say a big thanks to our little community, it's been awesome how everyone has got behind this challenge," Mr Powell said
A Corporate Sky Tower Stair Challenge will be held for the first time today, and Whangarei woman Cheryl Hayes from Ray White Allens was one of the first to put her hand up when the call for a team went out to 134 Ray White real estate offices.
Without the benefit of a high rise building to train in, as her four Auckland-based teammates have had, Ms Hayes regularly pounds the tracks of Parihaka and the 200-plus steps on the Tutukaka Lighthouse walkway.
"I'm sure I can do it inside 10 minutes," she confidently predicted of today's stairs challenge.
For more articles from this region, go to Northern Advocate