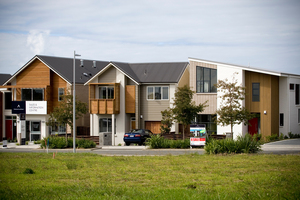 A deal aimed at breaking an impasse over Auckland's housing crisis will include a requirement for developments to include affordable housing and/or options for first-time house buyers.
Prime Minister John Key, Mayor Len Brown and Housing Minister Nick Smith will announce the arrangement this afternoon at the Hobsonville Point housing development.
It follows six weeks of talks between the council and central government to fast-track plans to free up land for residential development.
The Herald has learned that the council has negotiated the requirement for affordable housing and/or options for first-time house buyers, who are struggling to get a foothold in Auckland's red hot property market.
House prices are booming in the city with the average price of a home in the former Auckland City area rocketing to $735,692 (up 12 per cent in a year) and the average price citywide up 12 per cent to $628,205.
Properties purchased as recently as 2011 are selling for hundreds of thousands of dollars above their valuations.
A rundown four-bedroom villa in the central city suburb of Grey Lynn fetched $1,445,000 last week, 50 per cent above its valuation of $980,000.
It is also understood a streamlined process for consent applications for housing developments will be considered by an independent panel of at least three people appointed by the council. Members could include independent planning commissioners, Local Board chairs and community representatives.
The streamlined process will apply to applications in "brownfield" sites within the existing urban boundary - such as Hobsonville Point and Tamaki - and "greenfield" sites the council has earmarked for 160,000 new homes over 30 years. The rural areas includes the towns of Pukekohe and Warkworth and communities served by the Northwestern Motorway, such as Kumeu and Brigham Creek.
Applications will have to meet certain criteria, including numbers of dwellings and access to infrastructure.
It currently takes an average of three years to get consent for new housing developments. An announcement on the time it will take under the streamline process will be made this afternoon.
The deal will give effect to some parts of the council's new planning rulebook - or unitary plan - which the council wanted to have legal effect from September and the government insisted go through a three-year process to ensure Aucklanders were involved.
Declining home affordability have emerged as a major economic and political headache.