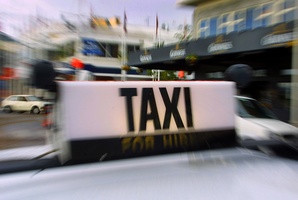 A Tauranga driver who was beaten and robbed in January has given up driving taxis.
His attackers Jared Dixon, 18, and Timote Manu, 19, who both pleaded guilty to aggravated robbery, were jailed of two years nine months and three years respectively, when they were sentenced in Tauranga District Court yesterday.
Manu's sentence includes time for two unrelated charges of burglary which came to light after his arrest for the robbery.
The pair beat and robbed a 40-year-old Tauranga Mount Taxis driver in Ohauiti Rd after he picked them and two associates up on January 23
Dixon landed at least 12 punches to the victim's face and head, and Manu about 14 punches.
When the victim tried to escape the attacked continued on the footpath until residents in the street intervened.
The victim suffered head injuries and was treated at Tauranga Hospital and released the next day.
Dixon's lawyer Tony Rickard Simms said his client found attending a restorative justice meeting a "gruelling affair" and now understood the seriousness of his offending.
Judge Robert Wolff said young people seemed to view taxi drivers as easy targets.
"It is well recognised that taxi drivers are vulnerable victims because they work alone at night and sometimes carry sums of money, and unfortunately frequently become targets of this sort of offence."
Outside court Tauranga Mount Taxis administrator Jacqui Coffey, who attended the restorative justice meeting, said both she and the company's board chairman Roman Faily were satisfied with the sentencing outcome.
"The victim was left very traumatised by this appalling attack," Ms Coffey said.
"This has been life changing for him and his family. He has effectively stopped driving because he cannot face it anymore, nor does his family want him to continue. Once he sells his taxi he will be leaving the company for good. It's been very scary for him, other drivers in our company and the whole industry."
For more articles from this region, go to Bay of Plenty Times