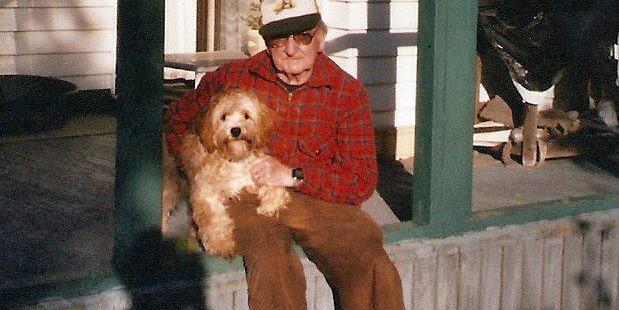 An elderly man who survived a night lost in the cold and cuddled up to his dog for warmth was surprised his worried wife called police, saying he didn't want a fuss.
Geoffrey Hanson, 80, was reported missing on Wednesday after he failed to return from walking his dog Rusty in the Foxton Beach area about 4.30pm.
A search was launched immediately but as temperatures dropped it was called off. The search resumed yesterday morning but Mr Hanson walked out from sand dunes about 8.30am.
He was taken to Palmerston North Hospital suffering suspected hypothermia.
Police said he spent the night in among sand dunes in a forest, huddled with Rusty for warmth.
Mr Hanson's wife, who did not want to be named, spent yesterday at her husband's bedside.
She said it was a "shocking feeling" not knowing where he was through the night.
"He's a diabetic and I didn't know if he'd gone into a coma," she told APNZ.
She said that when she was finally reunited with her husband yesterday morning, "I didn't know whether to give him a hug or strangle him".
Mr Hanson's first words to his wife were to ask why she had called police, because he was sure he would make his way home eventually and he didn't want a fuss.
"I said 'do you realise you've been gone all night. What have you been doing'," she said.
He was too tired to reply, but she believed he had tried a new walking track before getting lost.
Throughout the night, 2-year-old Rusty, a Tibetan terrier-Cavalier cross, stayed with Mr Hanson, sitting on him whenever he lay down and keeping him warm.
Mrs Hanson said the couple's large family, which includes 11 grandchildren and 14 great-grandchildren, were a huge support throughout the night.
"I didn't know what to think - I couldn't sleep or eat, I just sat here," she said.
Mr Hanson was still in hospital last night but she hoped he would be discharged today.
District Search and Rescue co-ordinator Sergeant Bill Nicholson said everyone involved in the search was relieved to find Mr Hanson and his dog.
He said he was grateful to everyone involved in the search, including the local community.
- APNZ