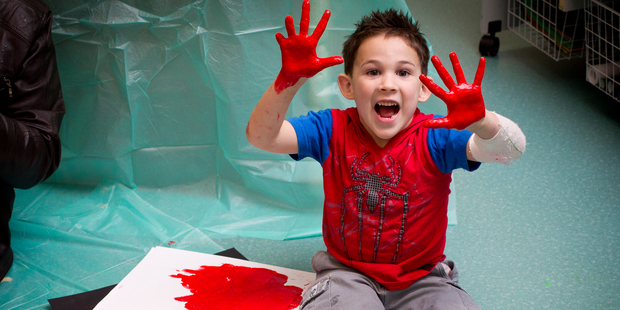 Elliott Crimp has lost two fingers, part of his right foot, areas around his knees and all his toes were amputated after contracting meningococcal B, but he hasn't lost his sense of humour.
The 4-year-old tells people he has "ninjacoccal" disease because the ninjas got into his blood to beat him up from the inside.
And it all started with a stomach ache.
His mother, Kushla, remembers the exact date Elliott complained about a sore stomach. It was September 26 and they had just eaten dinner - she thought he was complaining to get out of going to bed.
But he quickly got sicker and started vomiting relentlessly. By the next morning, Mrs Crimp called an ambulance because Elliott had nothing left to throw up and couldn't even keep water down.
When the paramedics arrived he had a temperature of 40.9C and not long after he got to hospital, a rash broke out over his torso. Doctors knew straight away it was meningococcal B.
Elliott has come a long way since then and is now able to put pressure on his feet so he can walk again, something his parents feared might never happen.
On Wednesday he had an operation on his feet which forced him off them for five days, but that hasn't slowed him down.
He piles his toys on his lap in his wheelchair and nips around the hospital ward he has called home for the past seven months and he uses his upper body to pull himself around on the floor.
He's celebrated Christmas, his fourth birthday and Easter in Kidz First Children's Hospital because of his ongoing treatment.
But Elliott doesn't let his health woes bring him down. Yesterday, while he was painting a picture for The Original Art Sale Gala next week, he screamed and giggled as he covered every bit of exposed skin with as much paint as possible.
"Paint, paint paint, all over me," he chanted as he waved his paint-stained hands at his mother.
He was going to paint a ninja, but it turned into a bit of a red blob so he did an abstract painting with handprints.
Elliott's work, touched up by artist Marcus White, will be auctioned off at the gala to raise money for Kidz First.
Mrs Crimp takes turns with her husband, James, and two sons Ian, 6, and Angus, 5, to stay with Elliott at Kidz First. During one of their trips, the brothers came up with the name "ninjacoccal" because they didn't quite understand the word "meningococcal". Mrs Crimp doesn't like to think about how long Elliott's road to total recovery is.
"I don't want to ask because I know it'll be a long time."
Elliott's painting will be auctioned at The Original Art Sale Gala next Thursday at Vodafone Events Centre. Proceeds go to Kidz First Children's Hospital to be used to support the school clinics programme.
Original Art Sale Gala
When: Thursday, May 16, 6.30pm-8.30pm
Where: Vodafone Events Centre, 770 Great South Rd, Manukau City