Mayor also denies free pool entry for the disabled and elderly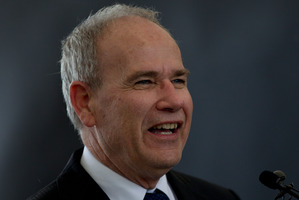 In a political twist, a centre-right move to give the disabled free access to swimming pools was defeated by the centre-left on Auckland Council, including Mayor Len Brown, yesterday.
The knockback for the city's disabled community was part of a messy, seven-hour budget debate of twists and turns that settled for a 2.9 per cent rates rise this year.
But while Mr Brown patted himself on the back for delivering rates rises of 3.9 per cent, 3.6 per cent and 2.9 per cent in the first term of the Super City, he was silent about a twist that will see nearly 370,000 households pay more than 2.9 per cent.
The twist is part of a three-year process to phase in a single rating system for the Super City, which has seen some ratepayers getting big rate rises and others paying less. This year, 94,371 households will pay the maximum increase of 10 per cent and 79,327 households receive the maximum decrease of 2.5 per cent.
Mr Brown, a champion of the former Manukau City Council's policy of free pools, voted against a motion from right-leaning councillor Calum Penrose to extend free access to children 16 and under, to the disabled and their caregivers, and to the elderly.
Mr Penrose said the only place where the disabled could get relief and relaxation was in the water. He also wanted free access extended to people 65 and over at a combined cost of between $1.5 million and $1.8 million.
"We have a budget of $84 million for upgrading parks. What about those less fortunate?" Mr Penrose asked.
However, Mr Brown and the majority of councillors opted for an amendment from Labour councillor Richard Northey to provide free entry for the disabled as soon as possible through sponsorship or other means.
A controversial $30 million white-water-rafting and kayaking facility at the Vodafone Events Centre in Manukau also came through the political rapids yesterday, but not before its opponents called it "dodgy" and "risky" and its backers on the council stayed silent during a one-sided debate.
Under the council decision, the Counties Manukau Pacific Trust could receive about $20 million from the sale of a piece of adjacent council-owned land but cannot seek further council funding for capital or operational costs.
The trust has promised to raise the remaining $10 million for the project.
It is a pet project of Mr Brown, who removed himself from the debate because of a conflict of interest. He has close ties to trust chairman Sir Noel Robinson and events centre chief executive Richard Jeffery.
Last-minute additions for local projects in the budget included $1.6 million to upgrade the Ellen Melville Hall in the CBD, $1.3 million for the Warkworth Town Hall upgrade, $300,000 for the Pah Homestead in Hillsborough and $250,000 for The PumpHouse in Takapuna.
Watercare Services said it would hold water prices this year, which are charged separately to rates.
Your rates
2.9 per cent overall increase
94,371 number of households receiving 10 per cent rises
79,327 number of households receiving 2.5 per cent decreases
368,424 number of households whose rate rises are more than 2.9 per cent
106,060 number of households whose rate rises are less than 2.9 per cent