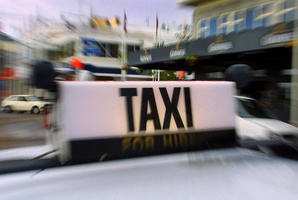 Two teens who viciously bashed and robbed a Tauranga taxi driver in January have been sent to prison.
Jared Dixon, 18, and Timote Manu, 19, brutally attacked a 40-year-old Tauranga Mount Taxis driver just before midnight on January 23 after the cabbie picked up four male passengers in Welcome Bay.
Upon arriving at their destination, the driver was bashed inside his taxi before the assault continued on the roadside.
He was treated at Tauranga Hospital for head injuries and severe bruising.
Witnesses said it was a brutal beating and described hearing piercing screams of "help, police, help, help".
The driver's turban was ripped from his head. Neighbours grabbed a piece of wood and ran to the driver's aid, grabbing one of the attackers and later grabbing the other who was rifling through the taxi.
"They were using the man as a punching bag and hitting him with haymaker swings, and some of the hits were definitely landing," a witness told the Bay of Plenty Times.
"It was disgusting."
Manu later admitted punching the driver in the face and head at least 14 times in the taxi and then landing more blows on the roadside before rifling through the vehicle to find items to steal.
Dixon and Manu were sentenced today in Tauranga District Court on aggravated robbery charges when they appeared before Judge Robert Wolff.
Dixon was sentenced to two years and nine months and Manu to three years. Manu's sentence includes charges for two unrelated burglaries.
Judge Wolff told the prisoners this was a "horribly strong case" given the graphic video footage from inside the taxi and conviction would have been inevitable if they had decided to go to trial.
"It is well recognised that taxi drivers are vulnerable victims because they work alone at night and sometimes carry sums of money, and unfortunately they frequently become targets of this sort of offence."
Judge Wolff said despite the inevitable jail sentence, young people in particularly seemed to view taxi drivers as easy targets, and failed to heed the Court of Appeal's attempts to send a clear deterrent message to the community.
The judge told Manu and Dixon that notwithstanding their remorse, their youth and the steps they had taken to try to make amends, he was satisfied the only sentence must be imprisonment.
For more articles from this region, go to Bay of Plenty Times