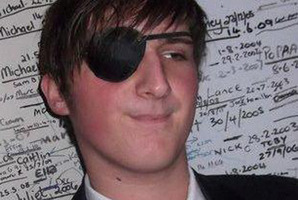 An optometrist whose teenage patient lost an eye after he failed to diagnose a detached retina has been suspended for six months and ordered to pay $10,000 in costs.
Whangarei optometrist Desmond John White, who owned and practised at Visualeyez until mid last year, has been censured by the Health Practitioners Disciplinary Tribunal following the incident in 2010.
Mr White examined then 16-year-old Jared McGiven on December 9, after the teenager failed the eyesight test when he went to get his learner drivers' licence.
He found an abnormality in Jared's right eye, but he did not identify it as a detached retina.
Mr White arranged to see the teenager for a second consultation on December 16, when he dilated Jared's right eye and took more photographs.
He told the teen and his mother Susan McGiven that the abnormality was probably nothing to worry about, and they should wait three months for another examination.
But Mrs McGiven said she did not want to wait three months because they were worried about what the abnormality was.
Mr White then said he would email the photograph of the eye to a specialist to have a look at.
He showed the photograph to his friend, ophthalmologist Brian Kent-Smith, when he stopped by the practice on a casual visit five days later.
Dr Kent-Smith said the patient should be referred to him, but Mr White did not do so until the following year, after Mrs McGiven rang the practice to raise her ongoing concern.
It was not until February 7, 2011 - eight weeks after the first examination - that Mr White referred the teenager to Dr Kent-Smith.
Dr Kent-Smith diagnosed a detached retina, and arranged for surgery to be carried out at Middlemore Hospital in Auckland.
But five operations failed to solve the problem and Jared's right eye was removed and replaced with an artificial eye in December 2011.
In a letter to the McGivens, Mr White acknowledged Jared's referral "fell through the cracks in our system" and apologised to them for the delay.
Mr White has since moved to Brisbane but was unable to take a job as an optometrist, given the matter was still before the tribunal.
He was unemployed for a number of months before taking a job as a sales manager for a contact lens supply company.
Mr White accepted he was guilty of professional misconduct when he appeared before the tribunal.
Tribunal deputy chair Kate Davenport said the failure to diagnose the retinal detachment, and to urgently make a referral to an ophthalmologist, were "significant departures" from the standards.
"Indeed the tribunal is concerned that these failures illustrate a lack of competence as an optometrist in Mr White.
"The delay in referral was serious and detrimental and well below the expected standard. It cannot be dismissed as an administrative error."
The tribunal suspended Mr White from practising for six months and ordered him to pay $10,000 in costs.
When he resumes practice, he must be supervised for a period of 18 months and must undergo assessment to demonstrate his competence, at his own cost.
The tribunal also ordered Mr White not to enter sole practice for a period of three years.