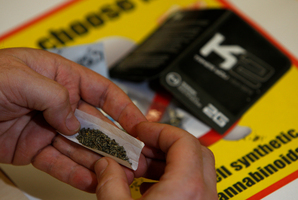 Synthetic cannabis has been linked to an overseas death.
A case report published last month by the Japanese Association of Forensic Toxicology connected the death of a 59-year-old man to the synthetic cannabinoid MAM-2201.
The man was found dead in his home, with packets of synthetic cannabis nearby.
No evidence of violence or disease was found, and doctors from Tokai University, where a forensic autopsy was performed, concluded "the man's death was caused by acute intoxication with MAM-2201".
While MAM-2201 in blood levels was relatively low, the cannabinoid's concentration in adipose (fatty) tissue was about 124-fold higher, possibly because of post-death metabolism or degradation in the blood.
Toxicologist Leo Schep, of the National Poisons Centre, said caution was needed in interpreting the results, and it was difficult to establish conclusively that synthetic cannabis had caused the death. He said that in New Zealand the health effects of the drugs had been linked to paranoia, seizures, psychotic episodes and acute renal injuries.
The synthetic drugs were pulled from shelves in August 2011, and MAM-2201 was banned in New Zealand in July last year. But reformulated products have been introduced which avoid the banned chemicals and can legally be sold.
Associate Health Minister Peter Dunne said a solution would be in place by August at the latest, when a regime would make manufacturers prove the safety of products before they could be sold.