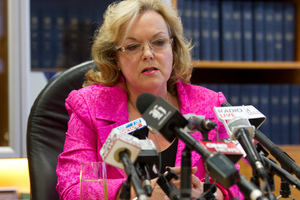 Justice Minister Judith Collins said Government were waiting on changes to Australia's privacy laws to come into place before introducing a law change allowing police to flag criminal backgrounds to family members and others.
"What's required is for the Australian's to change their privacy laws and they have been changed but they don't come into force until April next year."
She said a memorandum of understanding was needed particularly on information in Australia's database that records criminals, Crimtrac.
Ms Collins said it was further complicated by Australia having multiple jurisdictions as opposed to New Zealand, that has one.
"We are seeing some of these very very violent and dangerous offenders deported back here which means the information sharing is going to have to move out of the ad hoc way it has been in the past," said Ms Collins.
She would like to ensure police can provide information to people who might be concerned about the behaviour of someone they're in a close relationship with.
"For example, if you're living with someone, or going out with someone and you start to see some behaviour that made you concerned, you should be able to go to police and get the full details.
"I don't understand the idea that one day a matter is in court and it's public and public information, and it seems like a week later it's suddenly private.
"It seems bizarre to me, and I need to really be convinced that what we're doing at the moment is the right thing and I'm not sure that it is."
Ms Collins said a report could take up to two months.
- APNZ