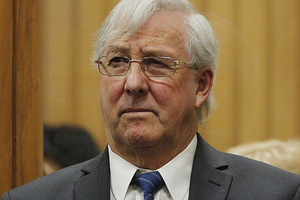 The jury has retired to begin their deliberations in the trial of a pensioner accused of murdering a Turangi service-station attendant more than 30 years ago.
Menzies Reginald John Hallett is on trial before Justice Ailsa Duffy for the murder of Rodney Tahu in August 1979 in the High Court at Rotorua, with a verdict expected later today.
Yesterday Crown prosecutor Fletcher Pilditch said during his closing submissions that the 72-year-old had retracted an earlier admission that he had killed the father of two.
The stunning revelation came a day after three separate witnesses - Hallett's ex-wife Susan Sharpe, a flatmate of his from the mid-1980s and a woman he briefly dated later that decade - all gave evidence stating that the former real estate agent and musician admitted to them that he had killed Mr Tahu.
Hallett's lawyer, Paul Mabey, QC, also told the jury of nine women and three men last week during his opening submission that Hallett accepted he was the man who shot Mr Tahu, but the issue would be whether the case was murder or manslaughter.
His closing submission yesterday lasted three minutes and 47 seconds after the Crown took more than an hour to wrap up its case.

The defence called no witnesses nor did Hallett give any testimony.
Mr Mabey said Hallet was innocent until proven guilty, if the jury returned a verdict "based on fairness and objectivity then no one can complain about that".
Earlier, the Crown prosecutor said it was Hallett's right to change his mind. Mr Pilditch said things happened in trial and things changed "and there's nothing particularly remarkable about that".
He said there were just two issues for the jury to consider - whether Hallett killed Mr Tahu, and if so, did he have murderous intent.
The Crown said Hallett was in a belligerent mood after receiving a letter from his wife.
The court heard how there was some dialogue that Hallett might get custody of their children, but Ms Sharpe refused. His oldest daughter also said she did not want to stay with him.
He arrived at the Turangi Shell service station just after 1am after hearing a rattling noise in his car and demanded some oil from Mr Tahu, who had just closed up.
After calling Mr Tahu a "black bastard" when he refused to sell him some oil, Hallett is alleged to have used his .22 revolver to shoot the 32-year-old twice.
"As the accused looked down on Mr Tahu injured on the ground, he took aim for a third and final time with a certain knowledge that pulling the trigger would end his life," said Mr Pilditch.
"And Mr Hallett pulled the trigger."
"The Crown's case is that he is guilty of nothing short of murder."