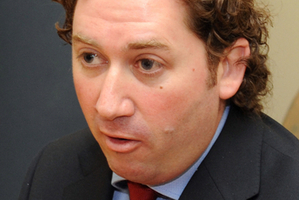 National MP Aaron Gilmore was under intense pressure to resign from both the Prime Minister and the National Party hierarchy last night after a series of text messages cast doubt on whether he told the Prime Minister the full truth about his run in with a waiter.
Prime Minister John Key said yesterday he found it difficult to reconcile the text messages with Mr Gilmore's assurance that he had not told a waiter he would call in the Prime Minister's office to have him sacked after the waiter refused to serve him more alcohol during a dinner at the Heritage Hotel in Hanmer Springs.
Mr Key's decision to take action against the MP followed the release of text message exchanges between Mr Gilmore and Christchurch lawyer Andrew Riches which were given to the Prime Minister's office. Mr Riches was at the dinner at which Mr Gilmore was reported to have threatened the waiter.
In that exchange, Mr Riches twice mentioned Mr Gilmore had threatened to call in the Prime Minister's office to have the waiter sacked. Mr Gilmore's failure to reject or deny that on both occasions is understood to have been a critical factor in Mr Key's decision to act.
Although National can expel Mr Gilmore from the party and caucus, it can not sack him from Parliament and he can stay on as an independent MP.
Mr Key yesterday called in party president Peter Goodfellow. However, Mr Key said it would be time-consuming and costly to expel
Mr Gilmore from caucus. He said he had not asked Mr Gilmore to resign.
"But given the pressure he's been under and the questions he has been unable to answer to the media, I would have though it was self-explanatory for him to come forward if that's what he wants to do."
He said Mr Gilmore had "some merits" but Mr Gilmore's texts cast doubt on whether he had told the Prime Minister's office the full story.
"I find it very difficult to reconcile, and I find it very difficult to get a straight answer quite frankly."
Mr Goodfellow later echoed that in a statement in which he said Mr Gilmore "will need to reflect thoroughly on his future as an MP".
"No party can force out a Member of Parliament. However, whatever decision Mr Gilmore makes, there are always consequences in politics."
Mr Gilmore said yesterday he had given his own explanation for the texts to the Prime Minister's office.
He stayed in his office for the remainder of the day with a security guard posted outside to stop media and did not return calls.
The text exchange between Aaron Gilmore and Christchurch lawyer Andrew Riches:
Andrew Riches: "What's all this group stuff? You directly threatened to have the guy Fired and said the prime ministers office would be contacting his employer the next day. The girls were gone by that stage and I was just standing there. Stop trying to imply we did something."
Aaron Gilmore: "FFS the batman claims the group were racist and that I was escorted from the hotel."
Riches: "What's the batman?"
Gilmore: "Barman"
Riches: "What? That's ridiculous, we were lovely to him. I also never recall you calling anyone a dickhead"
Riches: "I didn't write that note because I thought we were boisterous, I wrote it because you told the guy he was being fired, said the pm would be involved and I didn't want the poor guy to worry about his job"
Gilmore: "I know. They are trying to make it seem bigger than that. Its bulls***. ive taken the blame and apologised. Just say nothing."
Riches: "You didn't take the blame. You blamed the rest of your group when the girls weren't even in the same room"
Gilmore: "I did the f***tard said I was not the only one drink and i was carried out of the bar. I said that I was rude but he claims others were too. It's not worth the argument."
Riches: "Well the herald just called ad informed me they have heard you mentioned the prime ministers office ad threatened to get them involved"