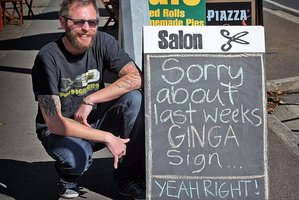 Stories making headlines around the regions today include a sign in Tauranga that has enflamed some red-heads and the luck of the Irish helped a Masterton family leave a lasting legacy.
A Tauranga hair salon's advertising ploy has fired-up some red heads.
A Leprechaun has been gifted to the Masterton Ambulance Station.
A Queenstown climber saved his companion's life when he was knocked unconscious.
A woman rescued her sleeping baby from a fire and then battled the blaze.
A good samaritan has stepped in to save the life of a pet dog on death row.
Gareth Morgan claims keeping stray cat colonies is "environmental banditry".
A Wanganui East family fears their beloved pet was stolen to be used as bait in dog fights.
The severity of abuse against animals has increased in Tauranga.
This woman got lost in her own backyard.
Skyline Rotorua head chef Fred Kreutmayer has a treat for mums this Mother's Day.
A Tauranga performer is "stoked" to be among the top 24 contestants in The X Factor NZ.
Other stories making headlines around the regions today:
Record low for Rotorua births.
Fire alarms save Masterton family
Rotorua among NZ's best getaways
Accuse motorist trembles in court
Hawke's Bay Fish & Game regional manager Pete McIntosh has appeared in court