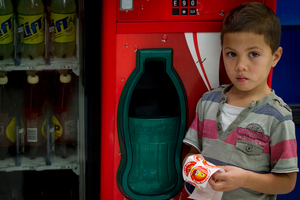 A 4-year-old boy had his arm stuck in a Coca-Cola vending machine for 45 minutes as his grandmother feared he'd crushed his fingers.
Kaea Manukau-Clerke sparked an emergency callout after he put his left arm inside the dispenser at Countdown in the Glenfield Westfield shopping mall yesterday.
He had been walking towards the exit in front of his grandmother Linda Clerke when he started playing with one of the machines by the door.
"He was stuck immediately," she said. "He was bawling his eyes out, absolutely beside himself. I had to try and calm him down."
She had earlier picked Kaea up from her daughter's home and taken him to swimming lessons, as she does every week. He still had his swimming bag on his back and she was unable to get it off.
The Fire Service and an ambulance arrived within minutes, but were helpless as they had to wait for Coca-Cola representatives to arrive with a key to open the machine before Kaea could be freed.
Mrs Clerke said it took them about 45 minutes to arrive. A cordon was put around the vending machine and a small crowd started to gather.
The little boy was freed eventually and checked out by paramedics. He escaped with just a red mark on his arm.
"You think the worst, I didn't know whether his fingers had been crushed or what," Mrs Clerke said.
She told Coca-Cola reps that there should have been a key for the machine on site so Kaea could be freed immediately. It was also too easy for him to put his hand up the dispenser as there was nothing blocking the opening and it was at child height, level to his shoulders.
Coca-Cola spokesperson Val Hayes said the company was contacted by Countdown staff just after 2.30pm and a technician and another staff member were at the scene within quarter of an hour.
"The child was released soon after and was treated on site. While we are naturally concerned to hear about this accident, we do have a number of vending machines in the marketplace and are satisfied that this is a rare occurrence. We have taken on board the comments around having a key on site, and will investigate the feasibility of this.
"In relation to the questions you have asked, it is important to highlight that this is an isolated incident. As part of our management of this incident, both our technician who attended the scene and another senior staff member have talked with the relevant risk management staff for both Glenfield Westfield and Countdown, and are satisfied with the process that was followed."