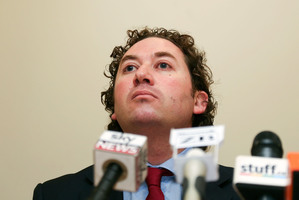 Aaron Gilmore is living testimony to Andy Warhol's prediction that in the future everyone will enjoy 15 minutes of fame.
Or should that be infamy in Gilmore's case? National's second to bottom-ranked MP has in fact enjoyed - if that is the right word - more than his allotted 15 minutes in the spotlight.
Perhaps fittingly, however, a 15-minute time limit was placed on Gilmore's too-long delayed date with the political media yesterday morning. His minder, National's chief whip Louise Upston, made sure the session did not last a second longer by abruptly cutting questioning short and walking out of the room with her hapless charge trailing behind her.
It was still long enough for Gilmore to repeat the words "apology" or "apologise" no less than 17 times as he confessed no less than eight times to being rude and arrogant to a waiter at Hanmer Springs' Heritage hotel who refused him more alcohol.
As political epitaphs go, Gilmore's declaration that "if there was a dickhead that night, it was me" could hardly be bettered. It will likely be remembered longer than its author.
The press conference was also long enough for Gilmore to draw inspiration from one of his idols, Winston Churchill, with the MP claiming he would rebuild his political career through shedding blood, sweat and tears.
But Gilmore was sure of one thing: if there was going to be any blood, then enough of his had already been spilled. Whereas other MPs would have parried, downplayed or even ignored journalists' questions about the contrasting accounts of what happened at the boozy dinner, Gilmore challenged alternative versions, especially that of fellow diner and lawyer Andrew Riches.
Gilmore strenuously denied Riches' assertion that he had been big-noting and had threatened to use the influence of the Prime Minister's office to have the waiter sacked. Gilmore insisted he had a discussion with the waiter over Gilmore's understanding of the liquor laws that someone could be fired if they served a drunk person.
This begs two questions. First, if the discussion had been so civilised, how come Gilmore got so angry with the waiter. Second, if Riches had got it so wrong, why did Gilmore wait for more than a week to correct him? The answer is Gilmore is not absolutely sure what he did say on the night despite claiming he drank only three glasses of wine and two beers over a period of more than four hours.
Gilmore says he has learned from the episode, notably to stop behaving like a bully and show more humility. All very worthy. But Gilmore miscalculated. He had punted on the media losing interest. Then, rather than killing the story, he did his best (or rather worst) to keep it alive.
In that respect, Gilmore's performance yesterday was less Churchillian and more Chinchillian.
Read more: Gilmore sorry but rejects most allegations