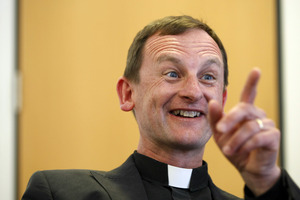 The Anglican Bishop of Auckland says he was simply following church rules when he turned Eugene Sisneros down for progressing with a priest training programme because he was in a same-sex relationship.
Bishop Ross Bay told a Human Rights Tribunal hearing in Auckland today he advised Mr Sisneros that entering the programme would be a dead end because of "considerable opposition'' from church leaders on the matter.
It is the second day of the hearing over the alleged discrimination, which is being held at Auckland District Court.
Mr Sisneros claims he was barred from entering the programme because of his sexuality - a claim the bishop has denied, saying he was simply following the church's doctrines.
Bishop Bay told the hearing he would not be opposed to changing his stance should church leaders alter the rules regarding the ordination of homosexual priests.
"There was no formal decision in effect ... rather the bishops and I agreed together they would uphold such a policy while coming to a decision on this matter.''
Bishop Bay admitted he had licensed gay and lesbian priests working in Auckland since becoming bishop, but denied any inconsistencies in his upholding of the church's doctrine in doing so.
In 2006 Mr Sisneros, 38, began a Bachelor of Theology degree and started signalling his desire to enter the training programme by writing to then Bishop of Auckland John Paterson, who said there was opposition to the ordination of gay clergy.
When Bishop Bay took over the role in 2010 he told Mr Sisneros there was no resolution over the issue and he was one of a number of bishops who had agreed not to ordain people in same-sex relationships until the church agreed on a stance.
As part of the entry process candidates were interviewed by the bishop, who considered several aspects such as their faith, ministry activities and any impediments, Bishop Bay said.
"There was an impediment in relation to him ultimately being able to be ordained,'' said Bishop Bay about the fact Mr Sisneros was in a same-sex relationship.
Mr Sisneros was not considered to in a chaste relationship in terms of canons of the Anglican Church, meaning a marriage between a man and a woman or single and celibate, Bishop Bay said.
Following their communication, Ms Sisneros later withdrew his application to proceed with the training programme.
Bishop Bay continued to relicense gay priests within Auckland.
"I have made a personal decision as a bishop to allow these licences to continue to be upheld.''
The hearing continues.
- APNZ