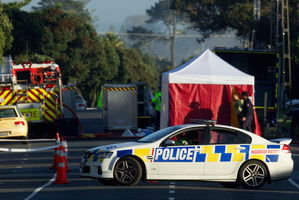 A 39-year-old man facing several charges relating to a P lab explosion at a rented Oceanbeach Rd house last month remains behind bars.
Rhys James Maybury from Papamoa Beach faced one charge each of arson, manufacturing methamphetamine, possession of a precursor substance, possession of precursor materials and equipment when he appeared in Tauranga District Court this afternoon.
Court documents reveal that police allege Maybury was involved in manufacturing P between January 1 and April 23 this year, and recklessly damaging a rented property on April 23 by means of an explosion.
The precursor charges relate to the alleged possession of caustic soda acetone, and beakers and glassware capable of being used to manufacture P and intended to be used for that purpose.
Bail was opposed by police but no formal application was made by Maybury.
Judge Ian Thomas further remanded him in custody until May 21 when the question of bail may be revisited.
A 57-year-old man remains in Waikato Hospital undergoing treatment for severe burns suffered during the explosion and flash fire.
Police say he is likely to face similar charges.
For more articles from this region, go to Bay of Plenty Times