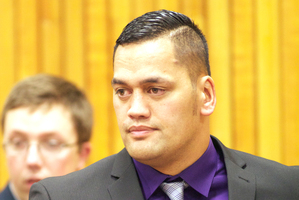 "He has shamed himself, embarrassed his family and humiliated his wife. He should hang his head, he should be ashamed, but a criminal he is not."
That's how lawyer Susan Hughes, QC, summarised the defence of a Wanganui police officer accused of seeking a bribe of sexual favours from a women caught driving while disqualified.
In the High Court at New Plymouth today, Constable Hayden Clifford Bradley, 31, was acquitted on one count of corruption and bribery of a law enforcement officer.
There were outpourings of relief from his family, who had filled the public gallery throughout Mr Bradley's two-day trial.
His father said the jury, which took less than three hours to return a unanimous verdict, made the right decision.
The mother of the complainant said she was proud of her daughter for going to the police and her family was very angry at the verdict.
"We are devastated but very proud ... My daughter is very vulnerable right now. She feels the verdict made a mockery of what she did. She says she told the truth".
Mr Bradley still wants to work as a police officer but whether he is allowed to will depend on an internal police investigation.
He has been suspended on full pay since the allegation emerged in February last year.
The Crown accused Mr Bradley of seeking sexual favours in return for not prosecuting a 27-year-old woman, who he pulled over on February 5, 2012, for driving while disqualified.
Ms Hughes told the court the only thing Mr Bradley was seeking was an assurance the woman would not talk about his decision not to charge her.
The court was told how police officers must charge someone who has been driving while disqualified because the offence can lead to imprisonment.
Ms Hughes said the sexual innuendo, flirting and "silliness" recorded in a conversation between Mr Bradley and the complainant as he drove her home from a bar in central Wanganui on February 7 was never linked to the prosecution of the woman's disqualified driving.
New Zealand Police Association spokesman Emmet Lynch said Mr Bradley was considered a hardworking and reliable policeman.
The case had been "pretty tough" on him and his family.
Mr Lynch said the use of discretion was a fraught issue for police and perceived by people in different ways.
"We all have bad days. This was a really bad day."
But Central district Commander Superintendent Russell Gibson said that while the jury had not found sufficient evidence to convict him, Mr Bradley's behaviour was "disappointing and undermined the integrity of NZ Police".
"Our reputation and our integrity is our greatest asset and we guard that very fondly."
Mr Gibson thanked the woman for her bravery in coming to police with the allegation.
"This woman has shown enormous integrity and strength in raising a matter where she felt a person in a position of power was acting inappropriately.
"She has had no personal gain from this situation and was subsequently prosecuted for driving while disqualified."