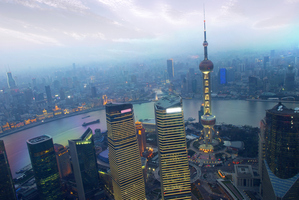 A New Zealand resident wanted for questioning over the murder of a prostitute in Shanghai remains in an Auckland prison after his latest bid for bail was denied by the Court of Appeal.
Korean-born man Kyung Yup Kim, 35, has been held at the Mt Eden Correctional Facility for almost two years since a judge issued a provisional warrant for his arrest in June 2011.
The warrant was issued at the request of Chinese authorities, who are seeking Kim's extradition for questioning over the murder of 20-year-old prostitute Peiyun Chen.
Chinese criminal investigators allege Kim killed Ms Chen at his Shanghai home on December 11, 2009 before dumping her body in a wasteland and fleeing to South Korea three days later.
It is alleged Kim told a friend he had just killed someone and that DNA matching Ms Chen's was found at his home.
Kim returned to New Zealand, where he has held permanent residency since age 14, in October 2010 - some five months after an Interpol alert was issued.
China applied for his extradition in May 2011, but because there is no extradition treaty between New Zealand and China, the request had to be dealt with by then-Justice Minister Simon Power, who allowed the case to go to court.
Several dates for an extradition hearing have been set, but Kim has requested they be adjourned while his lawyers seek his release from custody.
Numerous applications for bail have been declined.
Now the Court of Appeal has struck out a second appeal against the decision to deny Kim bail.
In a judgment, issued yesterday, Justice Douglas White said the court did not have jurisdiction to hear the appeal.
He said Kim had exercised his right of appeal in the High Court, which denied the appeal, and Kim had no second right of appeal.
Kim's legal team, led by human rights lawyer Tony Ellis, indicated to the court that it would bring the case before the United Nations Human Rights Committee if the appeal failed.
The court said that was a matter for Kim, but noted that it remained open for him to have his extradition hearing held before a District Court judge.
If Kim is found to be eligible for extradition it will still be up to Justice Minister Judith Collins to decide whether to surrender him to Chinese authorities.
Ms Collins could decide not to extradite Kim if there are grounds to believe he is in danger of being tortured or sentenced to death.
Chinese authorities have said they would not seek a death penalty if Kim was extradited.
Human rights groups have criticised the use of the death penalty in China, which executes more people a year than any other country where capital punishment is legal.
- APNZ