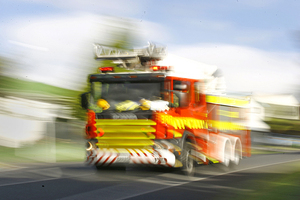 The occupants of a Featherston home gutted by fire yesterday morning were lucky to survive, neighbours say.
Featherston fire chief Colin McKenna said firefighters were called about 3am to battle the blaze, which had ripped through most of the house.
It took two fire engines and eight firefighters to get the blaze under control.
The house was not fitted with smoke alarms and an occupant noticed the fire only when a kitchen window blew out.
"There was a lot of heat in this fire before it was noticed," Mr McKenna said.
"There was no early detection, therefore it caused considerable damage. I would think this house would be a write-off, it was badly burnt inside."
Mr McKenna said people should be aware of the importance of having smoke alarms.
"In this case they could have certainly helped. We could have had early detection and possibly saved most of this house."
The occupants were two men and two women from France who had been working in the vineyards.
"They have lost everything that was in the house, there was nothing to be salvaged," he said.
Mr McKenna said fire investigators were still working to determine the cause of the fire.
Neighbour Andrea Watlin rushed outside to help when she saw smoke coming from the house.
She said the group had to jump a fence and climb up on to a neighbour's shed to escape.
"They are lucky to be alive, if they had been in the front rooms they'd have been charcoal.
"They were quite shaken," she said.
For more articles from this region, go to Wairarapa Times-Age