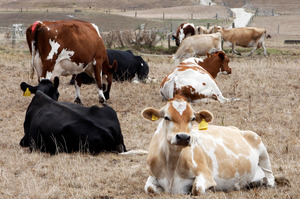 Farmers in parts of Hawkes Bay remain within the grip of drought while heavy downpours have brought flooding to other parts of the country.
Hawkes Bay farmer and Federated Farmers president Bruce Wills said some areas of the region still needed 100mm plus of rain to break the drought.
"It's just been very patchy over the past few weeks, no consistent rain at all," he said. "Some areas have received a decent amount and as a result have had some good grass growth, but those particularly in central Hawkes Bay have been worse off," he said.
Just 4mm of rainfall had been recorded at the Waipukurau farm of beef and sheep farmer Will Foley since 40mm fell about three weeks ago.
"I almost feel worse now than before the rain, because we had some long ranky grass for cattle feed but that rain rotted it away, so we have run out of cattle feed," Mr Foley said. "A bit of green pick that has come away but we would prefer to not touch it, because it affects the regrowth potential that we need for winter.
"If we get some rain we'll get a bit of growth but at the moment the feed cover is pretty low. It's going to be a hard, tight winter. We will have to feed out to cattle, otherwise we will have to sell them.
For more articles from this region, go to Hawkes Bay Today