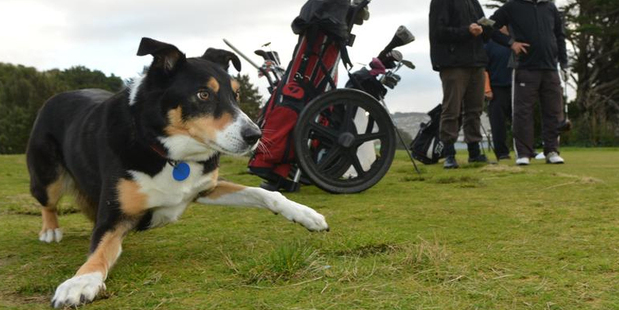 There is nowhere for golf balls to hide at a Dunedin golf course.
A sheep dog called Bossdin has taken on a search and rescue role at Chisholm Park Golf Links for scratch golfers and handicapped hackers alike.
"I used to take him for walks along John Wilson Ocean Dr and he would always stare down at the golfers playing. He would go down really low and stalk them, as if they were sheep," owner Dee Sorrell said yesterday.
"So, I started walking him through the golf course and he immediately loved it. He's famous here now. The regular golfers all love him. We go out on the course every day; rain, hail or snow."
Bossdin's popularity soared after he appointed himself chief ball-finder at the club.
"He just totally, totally concentrates on the tee shots. He always gets the easy ones first. He runs up and sits beside the ball with his paws on either side until you get there. He never picks the ball up and he knows not to go onto the greens," Ms Sorrell said.
"He's a farm dog and he's still got a huge desire to work and that's what he thinks he's doing. He doesn't notice other dogs or want a pat when he's on the golf course, because he's working. Sometimes, he gets bored when they're putting and starts to cry, because he wants them to hurry up and go to the next tee."
"He absolutely loves it. Strangers have told me you can see the smile on his face."
Ms Sorrell got 6-year-old Bossdin from a dog rescue agency in Christchurch five years ago.
"He likes soccer and cricket, too, but golf's definitely number one. I've got golf balls back at home, but he's not interested in them. He only likes it when people are playing and he thinks he's helping."
A group of visiting golfers from the Omokoroa Golf Club in Tauranga were grateful for Bossdin's help yesterday.
"I've never seen anything like it. He's such a hard case," Dodge Healy said.
"He gets to a couple of feet and then drops down and crouches by the ball. It's a very efficient way of playing golf."