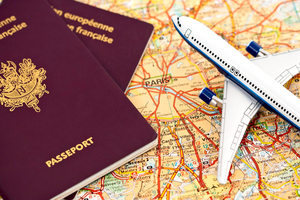 A Frenchwoman forged the signature of her former partner to get French citizenship for her baby, Queenstown District Court has been told.
Judge Kevin Phillips was told yesterday that Vanessa Nathalie Harmide's now ex-boyfriend discovered only after her offending in 2011 that he was not the baby's biological father.
Harmide, 28, admitted inducing the French embassy to accept a French translation of her daughter's birth certificate and inducing the French embassy to accept a French passport in her daughter's name in January 2011.
A charge of perjury was withdrawn.
The court was told the couple ended their two-year relationship in January 2011, and at that time, Harmide began getting necessary documents together for her baby girl to travel overseas and become a French citizen.
On January 28, 2011, Harmide asked her ex-partner to sign a document that enabled the baby to be registered with the French embassy.
He signed it and the document was sent to the French Consulate.
The pair then became embroiled over custody of the baby, during which time Harmide applied to the court for permission to travel overseas.
At the time, the man - still thinking he was the father - did not want Harmide to leave New Zealand with the baby.
"Unbeknownst to [the man], the defendant obtained and completed an application for a French passport for [the baby] dated January 3, 2011," prosecuting Sergeant Ian Collin said.
"The defendant did not seek the complainant's approval, which was a requirement for the documents to be accepted and instead the defendant simulated [the man's] signature on both documents and sent them to the French Consulate to be processed.
"When spoken to by police the defendant insisted that [the man] had signed the applications but that he was drunk when he did so, so probably could not remember signing them.''
The man thought he was the biological father until recently, Mr Collin said.
Harmide was living in Cromwell with another New Zealand man, with whom she now has a baby.
Judge Phillips said he felt sympathy for the man involved.
"He would have totally bonded with the child as if he was the child's father.
"You [Harmide] decided what you wanted to do, when you wanted to do it and as you wanted to do it.
"This type of offending, in my view, strikes at the whole procedural regime relating to passports, visas, and so forth.
"You didn't accept your culpability at all."
He sentenced her to 150 hours' community work for each charge, to be served concurrently.