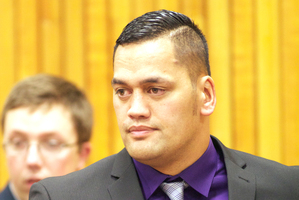 The woman who has accused a suspended Wanganui police officer of sexual corruption says she felt he was abusing his "position of power".
The woman, who cannot be named, broke down when Crown solicitor Cherie Clarke asked her to interpret the alleged offending.
"Because he could," the woman said. "It felt like he was using his position of power to get sexual things out of me."
Constable Hayden Clifford Bradley, 31, denied one count of corruption and bribery of a law enforcement officer as his trial began in the High Court at New Plymouth yesterday before Justice Ronald Young.
Ms Clarke accused Bradley of seeking "R18 stuff" in return for not prosecuting the complainant for disqualified driving.
The court was told Bradley stopped the woman on February 5, 2012, to check her vehicle after she drove past his mufti patrol car in Wanganui.
"Oh, it's you," Bradley allegedly said as he approached the complainant, who knew him only as Hayden, someone who had played rugby with her brother.
She recalled apologising to Bradley because she was wearing her pyjamas as she drove her son across town to visit his father.
The Subaru station wagon the complainant was driving matched the description of a vehicle which had been involved in burglaries, but it was established there was no link.
The complainant was a disqualified driver, although she told Bradley she had a licence.
Bradley, having returned to his patrol car, ran a check on the complainant and discovered she had been disqualified from driving in November 2011 for 12 months after being convicted of drink-driving.
He is accused of using his role as a police officer over the next few days in an attempt to obtain sexual favours from the complainant in return for ignoring the driving offence, calling her at home and then on her cellphone.
However, defence lawyer Susan Hughes, QC, said Bradley's decision not to charge the complainant for driving while disqualified was not preceded by a demand for sexual favours.
There was nothing sought and nothing offered, she said.
Under cross-examination, the complainant agreed Bradley wanted to meet her to make sure she was not going to tell anyone about his decision not to prosecute her.
Neither the complainant's parents nor employer knew she had been disqualified from driving.
"Your parents would be really brassed off, your job would be in jeopardy," Ms Hughes said.
In a recorded conversation, the complainant had told Bradley: "I just basically can't get found out."
He said: "I'm sure you can assure me." Both were seeking confirmation neither would talk. On February 6, the complainant made contact with another police officer she had met just days earlier and spoke to him about the alleged bribery.
As a result, Wanganui CIB Detective Senior Sergeant Dave Kirby called the complainant and arranged for her to make a formal statement at the Wanganui police station the next day.
Mr Kirby said the complainant had told him she would be happy for the police to listen in on conversations between her and Bradley.
That is what happened on February 7, when, as arranged, Bradley picked the complainant up from a bar in central Wanganui and drove her home. The trial continues.