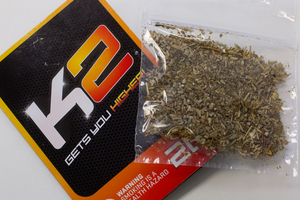 The scientist behind synthetic cannabis says the products "absolutely should not be used as recreational drugs".
Emeritus Professor John W Huffman, of South Carolina, developed synthetic cannabinoid compounds that bear his initials (such as JWH-018 and JWH-073) in his laboratory more than 15 years ago.
Those compounds were widely discussed in scientific publications, and have now been used to make recreational drugs.
He said the compounds were "not meant for human consumption".
"Their effects in humans have not been studied and they could very well have toxic effects.
"They absolutely should not be used as recreational drugs," he said.
Professor Huffman, an organic chemist at Clemson University, said the compounds appearing in "fake marijuana" were among many created by his group during research supported by the National Institute on Drug Abuse between 1984 and 2010, aiming to understand the relationship between the chemical structure and the biological activity of cannabinoids.
Cannabinoids include THC - the active ingredient in cannabis - but also other substances that interact with the cannabinoid receptors in the brain and other organs, he said.
"These receptors don't exist so that people can smoke marijuana and get high; they play a role in regulating appetite, nausea, mood, pain and inflammation."