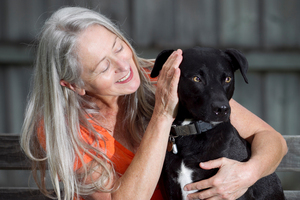 Linda Nunn has rescued, rehabilitated and rehomed thousands of animals.
She once found homes for 1700 wild chickens being starved and slaughtered in Albany, and recently even took in a woman who couldn't find new rental accommodation that allowed her three dogs.
Ms Nunn, who runs Animal Rehoming from her home in Browns Bay, Auckland, spends 70 hours a week saving abused, neglected and unwanted animals.
She operates a shelter and fosters out animals from cats and dogs to horses and geese before vetting potential new owners.
The 56-year-old vegan said while she had not seen a rise in animal abuse cases, she did not think the situation had improved since beginning her work in 2000.
"Each morning that I turn my computer on there will be at least 100 emails from people asking for help.
"There's cases I don't get to. I'm sure animals are being killed because I can't get to them."
Ms Nunn is not paid for her tireless work and survives thanks to the support of her husband Paul Johnson and donations from animal lovers.
One such supporter, Jessie Montgomery, adored her rehomed pet cat Archie so much that after he died of old age she decided to raise money for Animal Rehoming.
The Kaukapakapa woman is trying to raise $10,000 for the service and ran in Saturday's half marathon in Rotorua.
Ms Nunn said if the money was raised she would use it to pay off veterinary bills, which can sit at up to $6000 some months, pay for petrol used in the course of her work and put in wooden floors in her home to cater for the animals on the property.
To sponsor Jessie Montgomery visit www.animalrehoming.co.nz and click on Help Us. Make donations to the service on the website or post to PO Box 35-298, Browns Bay, Auckland.
Casualties of change
Most common reasons for animal rehoming:
* Marriage break-up.
* Moving overseas.
* Moving from the country to the city.
* Pregnancy.