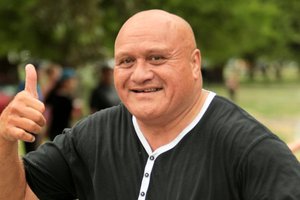 Parliament will dedicate itself to a special sitting today to mark the death of Parekura Horomia and will rise early after that before attention moves to the looming byelection in the former Cabinet minister's Ikaroa-Rawhiti seat.
Mr Horomia died a week ago yesterday and today's sitting will be the first since then. Prime Minister John Key said normal business would be suspended to allow MPs to speak about Mr Horomia instead.
About 100 of Mr Horomia's family and close friends are expected to attend to watch the special sitting and hold a ceremony to close his office.
Labour's caucus will also meet today for the first time since his death and junior party whip Darien Fenton said it would be a "tough day".
"We will all remember the last time he was there, just a few weeks ago, when he said, 'Kia ora, it's so good to be here.' But we will also have a lot of laughs. There's a lot of nice memories."
The byelection is likely to be in mid to late June and people are beginning to indicate an interest in contesting the seat, including Hastings District councillor Henare O'Keefe.
He has been mentioned as someone with the community reputation to stand against Labour and win the seat.
But he said he was likely to seek Labour's nomination, although he had a great deal of respect for Maori Party co-leader Tariana Turia, who had been supportive of his work with youth and anti-violence measures.
"There are a lot of i's to be dotted and t's to be crossed," he said, "but it would make it quite seamless if someone could slot into the Labour Party. We'll see where we go, there's a lot to talk about."
That decision would disappoint the Maori Party, which is also believed to have been keen to secure him as a candidate.
Mr O'Keefe is a stalwart of the Flaxmere community who has worked with at-risk youth most of his life, including fostering more than 200 children with his wife Pam.
Meka Whaitiri, the chief executive of Ngati Kahungunu, also confirmed she was considering standing for Labour.
She worked with Mr Horomia for 16 years at the old Department of Labour and when he was Minister of Maori Affairs before moving back to her Hastings hometown in 2009 to head the tribal body.
Mr Horomia was godfather to her sons and they were close family friends.
Other possible candidates mentioned include Hayden Hape, who is in his 30s and also on the Ngati Kahungunu board, and Bailey Mackey, the producer of programmes including The GC. He left for filming on the Gold Coast this week and could not be contacted yesterday.
National will not stand a candidate and the Mana Party is yet to reveal whether it will. The Maori Party is likely to, and its 2011 candidate, Na Raihania, said yesterday he was interested in standing again but was yet to discuss it with the party.
Labour Party secretary Tim Barnett said it would advertise for nominations later in the week and hoped to have selected a candidate at least a month before the by-election.
The candidate would be chosen by its usual process, involving the local electorate committee, the party, and local party members.
Possible candidates
*Henare O'Keefe
*Meka Whaitiri
*Hayden Hape
*Bailey Mackey
*Na Raihania