Lessons from Fox Glacier tragedy must be heeded.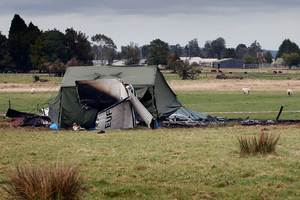 This country has established a reputation for adventure tourism that is the envy of others. They would relish the chance to grab a greater slice of a sector that now accounts for about half the money spent in New Zealand by overseas tourists.
Most have the advantage of being far closer to the homes of many of these thrill-seekers. Some can also go a long way towards duplicating the facilities for bungy-jumping, sky-diving, ballooning and suchlike that have made this country's industry so successful.
New Zealand must, therefore, be very careful to ensure it is seen as a place where adventure can be had without an undue endangering of life.
It is in this context that the coroner's inquest into the 2010 crash at Fox Glacier of an aircraft modified for skydiving, in which nine lives were lost, should be viewed. It found the aircraft was over the allowable weight limit and unbalanced. This, coupled with an unknown factor - possible engine malfunction, control-column failure, or pilot error - probably accounted for the loss of control.
In addition, the coroner said two skydive masters on the plane had cannabis in their systems, although this did not contribute to the crash. It did, however, echo the situation in the 2012 Carterton ballooning tragedy, where the pilot was found to have traces of the same drug.
While the precise cause of the Fox Glacier crash is unknown, it is clear that sensible precautions were not taken. None of the passengers was restrained. This probably resulted in load-shift as passengers slid to the rear of the Fletcher aircraft during the ascent, throwing it off its centre of gravity. The coroner was, therefore, merely stating the obvious when he recommended that passenger restraints for tandem parachuting flights should be "urgently considered", and that aircraft similar to the Fletcher should be restricted to six people and the pilot.
John Key, as the Minister of Tourism, has gone further, raising the possibility of mandatory random drug and alcohol testing in the adventure tourism sector. That is more problematic, not least from the viewpoint of logistics. But, if it becomes necessary to safeguard the image of the industry, there may be little option. Already, comments by several of the parents of young overseas tourists killed at Fox Glacier have highlighted the issue. A Melbourne woman said her son had "every right to be as safe as possible in that plane and he wasn't". She was angry that "New Zealand can't see if they don't change their ways, they're going to keep hurting people".
Similar comments are voiced whenever youngsters are killed in adventure tourism incidents. They cannot be dismissed as the product of over-wrought parents. Certainly, they will not be seen as such in their home countries. Each one of these tragedies puts a further dent in the industry's reputation for safety, and undoubtedly causes some potential tourists to ask whether they would be better to seek thrills closer to home.
Some degree of risk is, of course, inherent in such activities. But tourists should not have to face unnecessary risks. Gaps in safety practices must be plugged. For some time, there was a reluctance to burden the industry with red tape, not least because the accident and fatality rate was relatively low. Two tragedies in a space of 15 months with a death toll of 20 have changed that.
Commendably, the Key Government has been more proactive than its predecessor, probably because of the Prime Minister's direct concern. In the interests of the adventure tourism industry and New Zealand's reputation, it must now heed the lessons of the Fox Glacier crash.