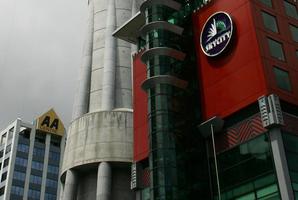 The mother who left her children in a SkyCity Casino carpark while she and her partner gambled for two hours has kept her criminal record clean, leaving the door open for her to pursue a career as a social worker.
The 29-year-old woman who has permanent name suppression was given a discharge without conviction at the Auckland District Court last year after pleading guilty to leaving her children unsupervised for two hours.
Police appealed against that decision to the High Court at Auckland today where Crown prosecutor Anna Longdill said the District Court judge had made an error in applying the law.
According to the police summary, the woman and her partner played slot machines and drank at the casino bar on the morning of February 26 last year while their five children, aged between 11 months and nine years, were left in a van in the casino carpark.
The woman took "one minute" to check on the children after an hour before returning to the slot machines.
The children were found after a couple heard "hysterical crying" from the van and called police.
Ms Longdill said Judge Grant Fraser allowed the discharge after hearing evidence that the woman had a "desired wish" to one day study to become a social worker.
She said the reasons for a discharge were "speculative".
"The [woman] had taken no steps in this career. It is not a situation where she was about to complete a social worker's course that she had put time and energy into it. No, it's that she may want to do a course sometime in the future."
The woman's lawyer Rob Weir read from his client's affidavit which was filed with the District Court.
"I cannot say for sure what would happen if a conviction was entered but I'm working really hard to put my life on track and I'm really worried that could put it in jeopardy."
He said the woman went on to say that a conviction could have destroyed her chances of getting a job as a social worker.
Mr Weir said the crime was low-level and was only punishable by a fine of up to $2000.
He said the woman was not at the casino to go gambling but had another reason to be there. Mr Weir did not elaborate on what that reason was.
Justice Peter Woodhouse found the District Court judge did not make an error of law.
He said the conviction would not only affect the woman's future study and employment in social work but could have impacted on other areas of her life.
He said that while Judge Fraser had not recorded some of the factors that went into his decision, he had to make his decision and give his judgement in a busy court room.
"In my judgement, having read all the factual matters placed in front of the judge, there was justification."
The woman's partner was convicted in the District Court because he had previous convictions. He was ordered to pay court costs of $132.
Department of Internal Affairs figures show the number of cases of children being left unattended at SkyCity has more than tripled in three years. There were 64 incidents of children being left unattended last year, up from 19 in 2009.