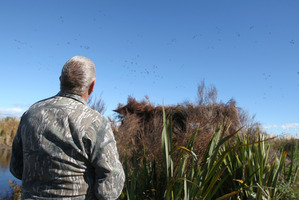 Fish and Game rangers are disappointed at the number of hunters who broke the rules on the opening weekend of the game bird season.
They checked nearly 300 hunters and found 13 not complying with rules.
Eight were found hunting without licenses, three were using lead shot in 12-gauge shotguns within 200m of open water and two shot over their limits.
"We're pretty disappointed to see the level of non-compliance over the weekend, which was definitely higher than previous years,'' Fish and Game officer Anthony van Dorp said.
"Guys might think it's worth taking the risk but they've got to weigh up whether they could give up their expensive shotgun, any ducks they've shot and other hunting gear just for the sake of a $90 hunting license.''
They also found a small number of hunters consuming alcohol while out shooting, putting themselves and anyone nearby at risk.
"Most hunters have got the message to leave the beers until hunting is over and the guns are secured away but we still need to get it through to a small minority.''
- APNZ