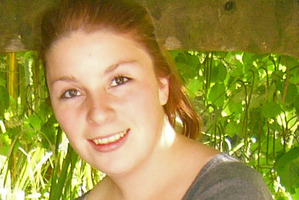 Murdered mother Alexsis Tovizi was a student social worker who wanted to help get her alleged killer's life back on track, her mother told a court today.
Nikki Roper, 24, is accused of strangling his ex-girlfriend to death with a sleeper hold just days after being released from prison where he was serving a sentence for choking her.
In the High Court at Christchurch this morning, Roper, unemployed, pleaded not guilty to murdering mother-of-one Ms Tovizi, 21.
Crown prosecutor Marcus Zintl told the jury of eight women and four men that it was a murder "fuelled by jealousy and revenge" after Ms Tovizi was in a relationship with another man.
He said Roper choked his "on again, off again" partner to death with a sleeper hold at her home between December 5 and 9, 2010, or stuck her head in a bucket of water.
This afternoon, Ms Tovizi's mother, Cheryl Tovizi, took the stand to describe her "very caring" daughter who would often get "overly emotionally invested" in people she was trying to help.
Roper had told her, and her mum, of a number of stories of his "difficult childhood" and that he "wanted to change".
He told them that Ms Tovizi was "the only one who could help him".
But after he attacked her at Cowles Stadium in Christchurch when he saw her with another man and he was jailed, she described him as a "psycho".
She had taken out a protection order against him, but often stayed in touch, her mother said today.
Mrs Tovizi warned her daughter that if she was putting her grandson in danger, she would have no hesitation in taking him away from her.
Ms Tovizi assured her mother that she wanted nothing to do with Roper, and had promised to change her cellphone number so he couldn't contact or "influence" her.
In emotional testimony, Mrs Tovizi also described the last time she saw her daughter alive on December 5.
They had joked about Ms Tovizi wearing her clothes, and she'd seemed in high spirits.
The following day, after Roper had allegedly killed her and stolen her laptop, cellphone, bank card, he dropped off her 3-year-old son at his great-grandparents' house, telling them that Ms Tovizi had "done a runner".
Mrs Tovizi then rang Roper, who told her that she'd planned to go to Auckland, and was in Greymouth staying with his friends.
While she didn't believe him, she had a hunch that she felt he knew where she was.
A post-mortem examination on her body, which was found by police on December 9, concluded that she probably died of asphyxiation.
Roper would later tell police, when he was arrested in February 2011, and also associates, that he had helped Ms Tovizi commit suicide, said Mr Zintl.
But he said Roper had talked about using a "military-style sleeper hold" on her.
Ms Tovizi's family members are due to give evidence at the trial, which is before Justice Forrest Miller and is set down for two weeks.
Justice Miller told the jury today that during the trial they would hear Roper had previous criminal convictions, and that he had spent time behind bars.
Justice Miller said it was unusual for a jury to hear such details because it could hinder a fair trial, but said it was necessary in this case in order for the jurors to make some sense of the relevant evidence.
The judge warned, however, that the information did not mean Roper was of bad character, or that he committed the murder.
- APNZ